Avoid Common W-2 Filing Errors By Using ExpressTaxFilings
|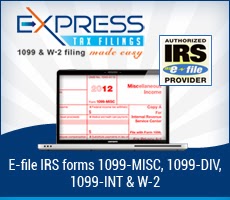 By now you should have furnished your employees their W-2, now it is time to file them. Some of the common errors that will be avoided simply by using ExpressTaxFilings are:
Using the form from the wrong year

Sending the W-2 to the IRS instead of the Social Security Administration

Not using approved form

Failure to get E-File waiver

Failing to use black ink

Making entries too large or too small

Failing to include the decimal and cents on amount
While these are not all of the possible errors that can occur, these will be eliminated when you use
ExpressTaxFilings
for your Form W-2. If you have any questions about W-2 E-Filing, contact the
Express Tax Support Center
in Rock Hill, SC at 803-514-5155 between the hours of 8am – 6pm EST, Monday through Friday or email
support@ExpressTaxFilings.com.
We have Spanish support too!