A TaxBandits Guide to 5498 Series Forms
Learn more about this form series and its deadlines!

|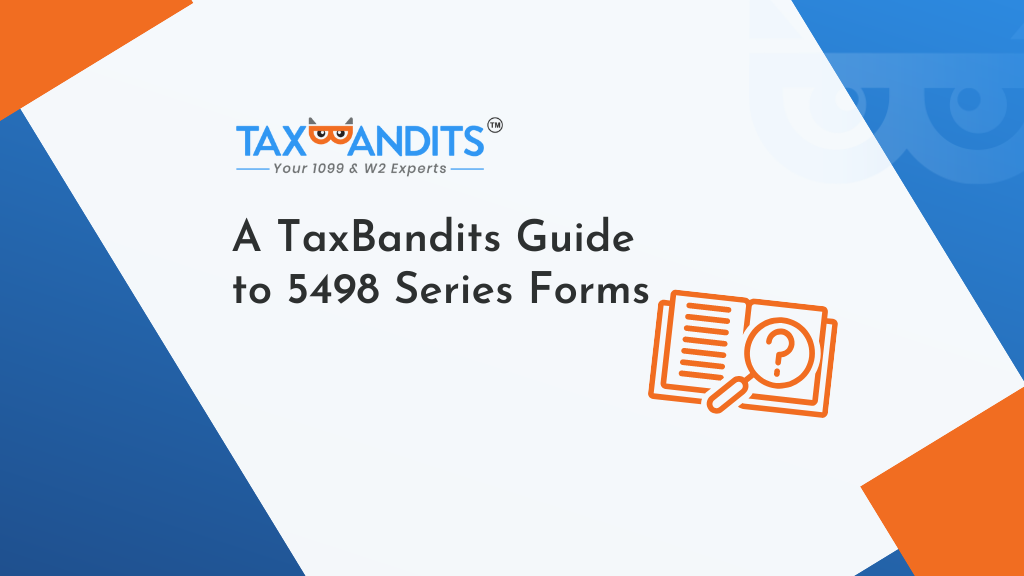 The deadline to file forms in the 5498 Series is coming up at the end of the month. Are you required to file any of these forms? If so, now is the time to get started.

TaxBandits provides a simple solution for Trustees or Issuers who must file Form 5498 Series with the IRS as well as a postal mailing option for the distribution of recipient copies.

Whether your business is the trustee of an account and is required to file these forms, or you are an account holder that receives a recipient copy, here is some helpful information about 5498 forms.

What is the Form 5498 Series?
This series of IRS forms are used by the trustees of certain types of savings accounts. The trustee is generally a financial institution or bank, and they are required to file these forms with the IRS as well as provide recipient copies.

What are the Different Types of 5498 Forms?
TaxBandits supports the following 5498 Forms:
Form 5498
IRS Form 5498 deals with Individual Retirement Arrangements. The IRS requires that trustees report certain information about the annual activities to these accounts. They must file Form 5498 for each account participant. In this form trustees of these accounts must provide the contributions, rollovers, Fair Market Value (FMV), Minimum Distribution Requirements (MDR), and recharacterizations of the account.
Form 5498-SA
Form 5498-SA deals with different types of medical savings plans. This includes the Health Savings Account (HSA), the Medical Advantage Health Savings Account (MA HSA), and the Archer Medical Savings Account (MSA). The trustees of these accounts must provide information to the IRS regarding contributions and rollovers during the tax year.
Form 5498-ESA
This form deals specifically with the Coverdell Education Savings Account. This is an education savings account that parents or grandparents can set up for their children and grandchildren to help save for their education. This account is available to individuals under a certain income bracket. The trustee of this account must report the contributions and rollover contributions on Form 5498-ESA.
What is the deadline to file 5498 Forms?
The deadline for filing 5498 forms is May 31, 2023. This is the deadline for account trustees to file with the IRS and distribute copies to the account holders.
It is important to note that businesses filing more than 250 forms are required to file their forms electronically with the IRS.
What Information is Required on 5498 Forms?
While the 5498 forms are used to report information about different types of accounts, there is general information that is required to file any of these forms. Some of this information includes: 
Trustees or Issuers' Details:
Name,
TIN
Address
Contact information
Participant's Details:
Name,
TIN
Address
Contact information
When it comes to the more in-depth information reported on each of these forms, the information required includes contributions, rollovers, recharacterizations, distributions, etc. 
E-file Form 5498 with TaxBandits in Minutes!
Now that you have a checklist, it's time to get started! TaxBandits is here to help. You can easily e-file 5498 Forms in minutes and transmit your form to the IRS.
We even offer a print and mail solution for your recipient copies.
Create your free account to get started and meet your deadline!

102 total views, 1 views today