E-File Your W-2 Forms In Bulk With Our Innovative API
|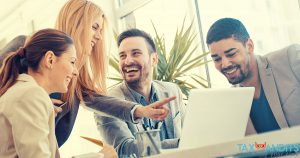 As the January 31 tax deadline inches closer with every minute. you're losing more and more time to file your W-2 Forms by the due date. From either only having a few employees to file for, to having a huge amount, missing the deadline will give you massive penalties to face from the IRS.
Here at TaxBandits, we don't want you to have to pay expensive penalties. That's why our program is designed to have an innovative application programming interface that efficiently meets your W-2 bulk filing needs. Whether you're a small business owner or accountant, you can do it all with TaxBandits.
E-File Your W-2 Forms In Bulk With Our Innovative API
TaxBandits API works to allow you to collaborate, build, and establish compliance for all of your clients by allowing you to easily integrate our e-filing tool into your own software. All of your clients can simply log in to your site and handle their returns.
This simplifies the way tax returns are managed and transmitted to the IRS. Plus, we offer our API in a cost-effective manner, by allowing you to choose the best package to suit your needs. Packages are based on your client size and tools you would like to access.
TaxBandits E-Filing Features
Also, our time-saving e-filing features make it extremely easy to file multiple W-2 forms by the deadline and even distribute copies to each of your recipients.
Bulk Uploading
 For example, you can use the bulk upload feature to import all of your information at once, instead of entering in one by one. When it comes to the bulk upload feature you can download our template, fill it out, and re-upload it to our system. You can also upload all of your employee data with your own Excel file.
Postal Mailing
Then when it comes to mailing out copies of your W-2 forms forget about dealing with the post office. You can simply elect to have us print out hard copies of your returns and mail them to your recipients for you with our postal mailing feature. 
Form W-3 and State Filing
Our smart system also handles all of your needs. For example, when you file your W-2 Forms we will automatically generate Form W-3, the transmittal form required to transmit the total earnings and tax withholdings for your employees during the tax period.
We also support state filing so you can comply with the federal tax regulations and the laws set in place by your individual state. You can read about what your state requires to easily file with your state department by the deadline.
Live Support
Plus, if you need any assistance with any of your tax returns, the 100% live, a US-based TaxBandits team is standing by to help. Just give us a call at 704.684.4751 with any questions that you may have Monday – Friday from 9 AM to 6 PM EST. You can also reach us via live chat and through our 24/7 email support at support@TaxBandits.com.