ETF Features: Web-Based Address Book
|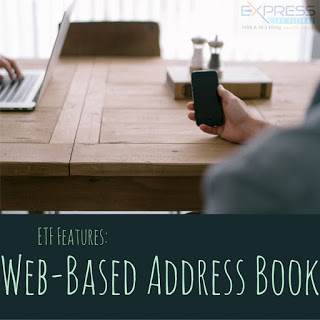 Quick – without looking at your phone – what's your best friend's phone number? What about their address? Don't feel bad if your fingers are itching to unlock your phone and thumb through the contacts to find the numbers you can't recall off the top of your head. As our handheld technology thrives, our head-held technology is adjusting to keep up.
"Digital Amnesia" is a term used to describe how our brain has adapted to and become dependent on everyday technology, so much so that we no longer memorize phone numbers and addresses as easily as people did just ten to twenty years ago. A study conducted worldwide by researchers at the Kaspersky Lab found that half of participants couldn't recall their kids' or office numbers without looking through their contact list; a third wouldn't know how to get in touch with their partner without the help of their cell phone; and more than 51% of Americans and 40% of Europeans said that losing important data stored on their digital devices would cause immense stress.
And if it's getting to be this difficult to memorize frequently used contact information, like that of your best friend, what's going to happen come tax season when you have to know the contact information of all of the people you'll need to send 1099s or W-2s to?
Now, I'm not telling you all of this to send you running to the nearest pen and notepad to write down all of your contacts' information to keep in a safe place (although that might not be a bad idea). I'm telling you this because ExpressTaxFilings already has a feature in place to help you with any digital amnesia you may experience when it comes to filing your taxes.
Because our program is web-based, any time you access your profile, all of the information you've entered before is already there – including your Address Book. In other words, wherever you have access to the internet and a browser, you have access to your contacts' information.
Whenever you begin W-2s or 1099s for a payer or employer with ExpressTaxFilings, you are prompted to enter business information, including a current phone number and address. Once you've entered in this information, it automatically gets saved to the Address Book tab of your dashboard where you always have easy access to it. Even the contact information you enter for each employer's recipients is saved in a subsection of their information in your Address Book.
Take a look at the following screenshots to see where and how you can access your Address Book:
On your Dashboard screen, look to the left and you'll see the Address Book option. When you click here, your Address Book will open to any employer or payer for whom you've already entered information.
On this screen you have the option to add an individual payer/employer or to bulk upload payers/employers into your Address Book. You can also edit or delete existing contacts and see information pertaining to each employer's recipients by clicking Details under the "Recipients" tab to the right of your screen. Clicking Details will bring up this screen:
As you can see, you also have the option here to add individual or multiple recipients and to edit or delete currently existing recipients.
So with all of the things your brain has to remember, let us handle the contact information you need for e-filing any 1099s, W-2s, corrections, or 8809 extension forms. And if you need any other e-filing assistance along the way, the USA-based ExpressTaxFilings team is here to help. We offer 24/7 email support at support@expresstaxfilings.com. Or, give us a call at (704) 839-2270 or send a Live Chat message Monday-Friday from 9 a.m. – 6 p.m. EST.