Form 941 Filing Tips for the First Quarter of 2021
Stay ahead of your quarterly filing!

|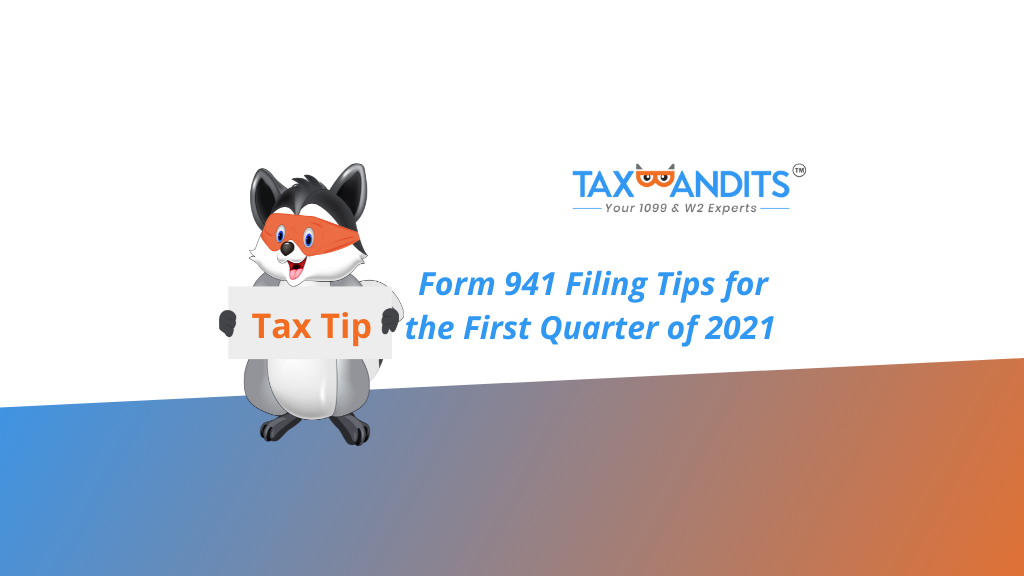 The deadline to file the quarterly payroll Form 941 will be here faster than a spring thunderstorm. That's right it's just over two weeks away on May 2, 2022!
Staying ahead of your deadline is the best way to save you the stress of last-minute scrambling. 
Here are some helpful tips from the TaxBandits team to help you conquer your Form 941 deadline with ease this quarter. 
Review the latest IRS Updates to Form 941
There is good news here! The revised version of Form 941 for the first quarter isn't drastically different from the version for the fourth quarter of 2021. There are only a few lines that have been either adjusted or earmarked for future use. 
These updates are due to the fact that many of the credits that employers have been able to claim during the pandemic are expiring. 
The employee retention credit and credits for paid sick and family leave wages are no longer available for this quarter. Form 7200, Advance Payment of Employer Credits Due to COVID-19, has also been eliminated. 
It is also important to note that the social security wage base limit has been raised to $147,000.
Check out the Updated 941 Worksheets
Now that these programs introduced under the CARES Act and American Rescue Plan Act have expired, the 941 worksheets will be affected.
For the first quarter, Worksheets 2 and 4 have been eliminated.
For the first quarter, there are only three necessary worksheets, these include:
Worksheet 1. Credit for Qualified Sick and Family Leave Wages Paid in 2022 for Leave Taken After March 31, 2020, and Before April 1, 2021
Worksheet 2. Credit for Qualified Sick and Family Leave Wages Paid in 2022 for Leave Taken After March 31, 2021, and Before October 1, 2021
Worksheet 3. COBRA Premium Assistance Credit
Take Advantage of TaxBandits Features!
Here at TaxBandits, our team works hard to develop features that simplify your filing process, whether you are a tax professional or a small business owner. Here are a few to remember when you begin filing your Form 941 this quarter. 
Zero-filing Feature
If you have no taxes to report for the quarter, your filing process is super simple with TaxBandits. Simply indicate that no wages were paid when you begin the form and you are able to skip through most of the filing process. Just review your form and transmit! 
Bulk Upload Feature
Are you a tax professional filing on behalf of multiple clients? Make sure you check out our bulk upload feature! This allows you to upload Form 941 data for multiple clients at once, so there is no need to file Form 941s one at a time. You can upload your data using our template or your own and then generate all of your clients' 941s!
Prepaid Credit Savings
At TaxBandits we love prepaid credits, for a reason, because they simplify your e-filing process and save you money! Prepaid credits never expire and can be used across multiple EINs. 
When you have a balance of prepaid credits there is no need to enter credit card information each time you transmit a form, just click transmit and we deduct a credit. It doesn't get easier than that!
Are you ready to begin your Form 941 for the first quarter of 2022, why wait? Log in to your TaxBandits account today! 
Don't have a TaxBandits account? Sign up for free and see all the time-saving features we have to offer!

408 total views, 3 views today