Happy Halloween From ETF!
|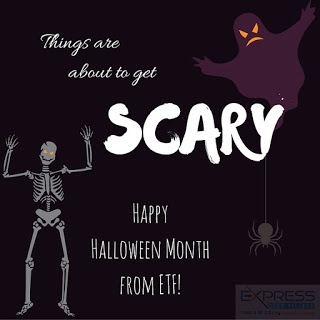 Happy Halloween MONTH ExpressTaxFilings users and blog readers! If there's one thing we love around the ETF office, it's Halloween: the costumes, the candy, and, of course, the scares!
At ExpressTaxFilings, we work our hardest to make sure that your 1099 and W-2 e-filings with the IRS are as un-scary as possible. With our easy-to-use application, built-in error checks, and live phone and internet support, your e-filing process is more like a stroll in the park than an escape from a haunted house. When you've got ExpressTaxFilings on your team, you're more than brave enough to take on the IRS.
So now you know that dealing with the IRS will be a treat, but what about the trick? Half the fun of Halloween Month is the eerie element that makes up part of the chilly October air. If I'm not mistaken, it's the BO₂ element. Get it? BO₂? As in B-O-O? Little chemistry humor there for ya.
Anywho, if you think you're up for a month of sleeping with the lights on, you could tempt your fearlessness by taking on this 31 Terrifying Horror Films to Stream This October challenge with me! Okay, so Buzzfeed doesn't really present it as a challenge, but after a few days in, I can (relatively) safely say that it is. Ranging from 1920 to 2014, these horror films are available to stream on Netflix, and all of them are guaranteed to send chills up and down your spine:
10/1: Children of the Corn

(1984)

10/2: The Babadook (2014)

10/3: Rosemary's Baby (1968)

10/4: V/H/S (2012)

10/5: Night of the Living Dead

(1968)

10/6: Saw (2004)

10/7: The Omen (1976)

10/8: Devil (2010)

10/9: Creep (2014)

10/10: Re-Animator (1985)

10/11: Housebound (2014)

10/12:The Monster Squad (1987)

10/13: We Are What We Are

(2013)

10/14: The Cabinet of Dr.

Caligari* (1920)

10/15: Oculus (2013)

10/16: A Girl Walks Home

Alone at Night* (2014)

10/17: Henry: Portrait of a

Serial Killer (1986)

10/18: The House of the Devil

(2009)

10/19: Maniac (2012)

10/20: Pet Sematary (1989)

10/21: Starry Eyes (2014)

10/22: Nosferatu* (1929)

10/23: The Taking of Deborah

Logan (2014)

10/24: Scream (1996)

10/25: Let the Right One In*

(2008)

10/26: Leprechaun (1993)

10/27: Contracted (2013)

10/28: Black Sunday (1960)

10/29: Teeth (2007)

10/30: Hellraiser (1987)

10/31: You're Next (2011)
*Be prepared to read: these are either silent or foreign films.
Personally, I'm pretty excited for the 14th: The Cabinet of Dr. Caligari is one of my all time horror favorites. What are some of your horror holiday favorites? Tell us about them in the comments!
And if you have any questions or need assistance e-filing with ExpressTaxFilings, you can contact our friendly support professionals at our office located in Rock Hill, SC. You can call (704) 839-2270 Monday through Friday from 9 a.m. to 6 p.m. EST, email at support@expresstaxfilings.com, or live chat with us at www.expresstaxfilings.com.
Happy haunting!