Score A Touchdown with ExpressTaxFilings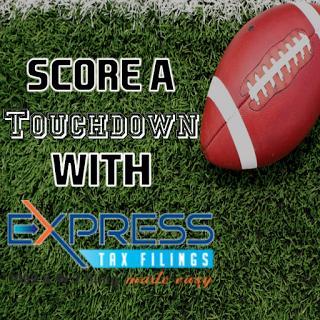 Football fans rejoice! The current sports season is in full gear, and whether your team is still undefeated or has lost every game so far, you can't deny that electric tingle of excitement whenever a game is broadcast. We get just as excited when you e-file your tax information returns with
ExpressTaxFilings
. We work closely with the IRS to bring you a quick and easy e-filing experience loaded with the following benefits that'll have you as pumped up as receiving a season ticket package for your favorite team.
Exceptional Price
Each information return you e-file with ExpressTaxFilings is priced just right, and is coupled with the highest quality of customer support. You'll be in a "4th & Long" situation trying to find our perfect combination of tax e-filing experience and value-based pricing anywhere else.
You can also conveniently e-file every single information form you need with our package offers. For you savvy professionals with multiple clients, our service allows you to manage them all under just one account; it's like your own tax fantasy team.
IRS-Authorized, E-file Provider
We provide the best by working with the best, and nothing is better than the pros from the IRS. We're able to offer you the safest and most accurate e-filing experience backed with an all-star defense consisting of site encryption, McAfee secure certification, and Secure Socket Layer (SSL) protection.
Re-transmit Rejected Forms for FREE
Our built-in error checks prevent most "flag on a play," but if your information return is rejected for any reason, you'll be able to make corrections and resend your form free of charge.
Quick Approval
No need to wait on a long conversion – Download, print, or email your return to recipients as soon as your form has been transmitted to the IRS.
Email Notifications
Like the best sports ticker available, you can stay up-to-date with the latest information regarding the status of your information return. Whether your form is accepted or rejected, you will be automatically notified.
Postal Mail or Print Center
Call the play however you see it with your option to either print and personally send your returns to recipients, or have your returns automatically postal mailed.
Magnetic Media Support for State W-2 Filings
If your state requires your form to be mailed on a compact disc (CD), let ExpressTaxFilings serve as your "special team" to create and send your CD at no extra charge.
Environmentally Conscious
By e-filing your Form 1099s and W-2s with ExpressTaxFilings, you are saving countless trees that are cut down yearly to make paper. Save the trees and e-file.
State Filings
Not sure if you need to also file for your state? ExpressTaxFilings can "coach" you with specific state filing information located on HERE.
It won't even matter if your favorite team goes all the way this football season or not because you'll always come out a winner e-filing with ExpressTaxFilings. And just like any good sports team, there is a dedicated support team working in the background. With ExpressTaxFilings, you won't be alone on the tax, e-filing field. Our team of live, U.S.-based professionals are ready to assist you whenever possible.
For any questions or comments about e-filing your W-2s or Form 1099s, you can contact our headquarters in Rock Hill, SC at (704) 839-2270 Monday through Friday from 9 a.m. to 6 p.m., Eastern Standard Time. You can also email at support@expresstaxfilings.com or live chat with us at www.expresstaxfilings.com.