Upcoming Webinar! TaxBandits 'Summer Solutions' for ACA Reporting
Join us to learn about all things ACA Reporting for the 2023 tax year!

|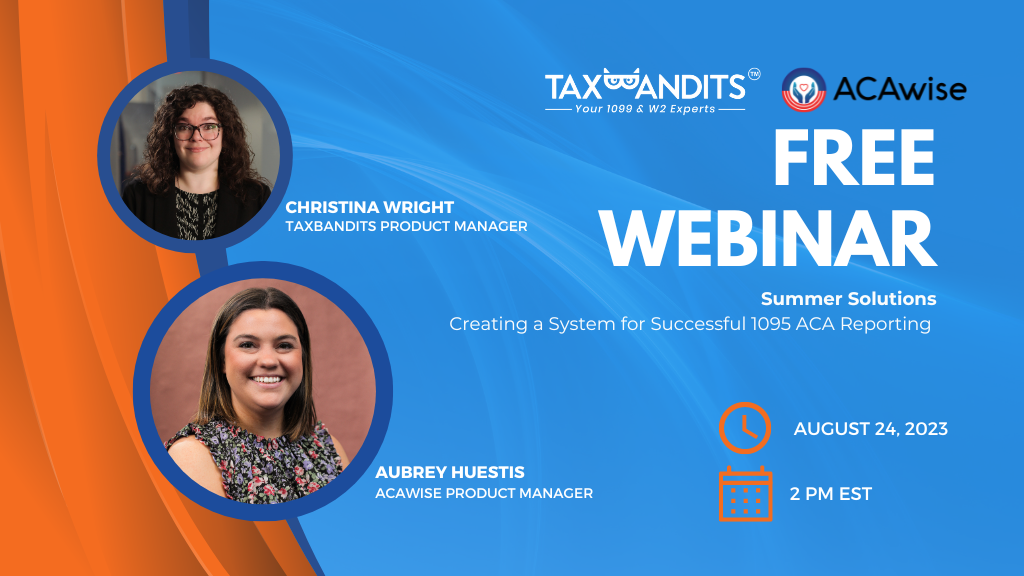 The days are long, the weather is hot, and we've entered summer's 'dog days'. For business owners and service providers everywhere there is a lot of administrative work on the agenda. 

What about your organization's ACA reporting for the 2023 tax year?
This may seem like a daunting task for a later time, but the team at TaxBandits is here to let you know – the sooner you start this process the better.

Starting the process doesn't mean jumping right into filing the forms, this means laying the groundwork for a successful reporting workflow. So, where should your business start, when should you start gathering information, and what are the requirements for this ACA reporting season?

Register for our Free Webinar
Join our webinar for the answers to all of these questions and more! We are joining forces with ACAwise, our sister product, and a full-service ACA reporting provider. Their Product Manager, Aubrey Huestis, will team up with TaxBandits' Product Manager to bring you a complete overview of the ACA reporting process.

Determining your reporting requirements and filing the required ACA 1095 forms is an intricate and complex process. With her extensive experience, Aubrey Huestis will be sharing insight into what businesses can do now to ensure a smooth reporting season for the 2023 tax year!

Join us on Thursday, August 24, 2023, for a free webinar at 2:00 PM EST! Click here to register.

What you'll take away from this webinar: 
A brief overview of the Affordable Care Act
Reporting requirements for Form 1095-B
Reporting requirements for Form 1095-C
New IRS Filing Thresholds
How this will impact ACA Reporting
Overcoming the difficulties and frustrations of ACA Reporting
Indicators that you need a full-service provider
About Your Hosts
Christina Wright is the Product Manager of TaxBandits, she is passionate about helping tax professionals and business owners of all sizes navigate TaxBandits and their business tax filing process.

Aubrey Huestis is the Product Manager of ACAwise, a dedicated solution for ACA Reporting. She has years of experience assisting her clients with every aspect of their Affordable Care Act reporting process.

Click the button below to reserve your spot today!

180 total views, 2 views today