Welcome Form 1099-B to ExpressTaxFilings!
|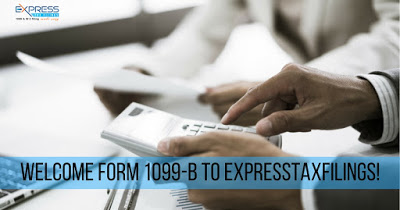 First, there were Forms 1099-MISC, 1099-INT, and 1099-DIV.
Then came Form 1099-R.
Now, ladies and gentlemen, put your hands together for the newest information return available at ExpressTaxFilings: Form 1099-B!
Form 1099-B is also known as Proceeds From Broker and Barter Exchange Transactions and is a form that needs to be filed yearly with the IRS. Form 1099-B is used by brokers and those who authorize barter exchanges to report when they sold for cash
– Stocks,
– Commodities,
– Regulated futures contracts,
– Foreign currency contracts,
– Forward contracts,
– Debt instruments,
– Options, or
– Securities futures contracts.
Like other 1099 Forms, a copy of Form 1099-B is required to be sent to the recipient for whom the form was filed with the IRS. For Form 1099-B, the recipient deadline is February 15 the year following the year the transaction took place. If you're paper filing, Form 1099-B is due to the IRS by February 28/29, and if you're e-filing, it's due by March 31. As always, if any of these dates falls on a federal holiday or weekend, the deadline is extended to the next business day.
And now, it's easier than ever to e-file Form 1099-B! As those of you with ExpressTaxFilings experience may already know, all you need to do to file this form (or any of our available forms) with the IRS is first to create a free account with us. Then, input the necessary payer and recipient data, pay a one-time transmittal fee, and send your form(s) securely and directly to the IRS.
When you e-file Form 1099-B with ExpressTaxFilings, you get access to all of our exclusive features that make us one of the best IRS-authorized e-file providers in the industry! This includes secure, cloud-based e-filing (so no downloading anything!), an online address book that remembers your info year to year, and our postal mailing service. With postal mailing, you can have us mail out your recipient copies of Form 1099-B for you! Just select that option before you transmit – otherwise, you can print and mail them yourself right from the print center of your account.
With ExpressTaxFilings, you also have our whole customer support team to help! We're based in the US and available by phone (704-684-4751), live chat, and email (support@ExpressTaxFilings.com). So don't hesitate to contact us with any questions you may have!
Stay tuned with ExpressTaxFilings for even more new filing options and all you need to know about staying compliant with your IRS reporting!