6 Ways To Make Small Business Bookkeeping Easy
|
If you are a small business owner you will agree that bookkeeping is not as easy it may appear. We've gathered some easy small business bookkeeping methods to help you keep things on the right track throughout the year.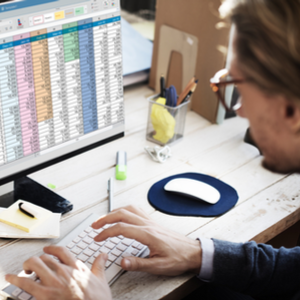 6 Ways To Make Small Business Bookkeeping Easy
Have Specific Bank and Credit Card Accounts for Your Business
Opening a checking and credit card account solely dedicated to your business helps to make bookkeeping very simple. A business account helps to ensure all transactions are business related and not mixed in with personal expenses.
Co-mingling personal and business expenses under one account is a major "no-no" when running a business.
Keep Track of Expenses
Tracking expenses and staying organized is essential for any solid bookkeeping strategy. An easy way to manage this is by developing a structured chart of accounts and updating it correctly. With this system, you can create and build financial statements, track deductible expenses/tax deductions, and accurately see where you stand with your finances.
Tip: Keeping track of your expenses will reduce your year-end tax return fee since it will take your accountant less time to prepare and finalize your return.
The most popular cloud-based accounting tools include QuickBooks Online and Xero which will make the accounting process a piece of cake. Integrating this information while handling your payroll and tax compliance needs with PayWow is simple.
Resolve Errors ASAP When Reconciling Bank Statements
Many small businesses fail to reconcile their accounts regularly and should do so each month, or at least each quarter. Reconciling bank statements keeps you aware of your business's finances and catch discrepancies between what is in the bank and what you have in your books.
If your books don't match your financial statements…"Houston, we have a problem!"
Treat Checks Like Cash
When you think about it, checks have the same function as cash; however, some business owners tend to lose track of the checks they write or even cancel. To avoid a big mess when handling your bookkeeping, simply put a system in place to record and process your checks as you go to eliminate this problem.
Use a Quick Payment Processing Application
Making sales and accepting payments from your clients is always a positive part of your day. Then you realize how long it will take for each payment to process. Having an efficient way to accept payments will help with quicker processing so you can be paid faster.
Before you select a payment processing application, make sure you analyze how your current clients typically pay for your product/service. Depending on their preferred payment methods, use an appropriate payment processing application that will keep things simple for you and your business.
Run Your Payroll with PayWow
Our sister product PayWow is an excellent way to simplify your small business bookkeeping needs! Using an all-in-one payroll solution helps you to automate your payroll for employees and contractors while simultaneously fulfilling your tax compliance requirements.
Simplifying bookkeeping needs for your small business is much easier than you think, especially when you have the proper resources to work with. Take advantage of these great tips and get your small business bookkeeping back on track.
2,200 total views, 1 views today