Businesses that made Full Deposits on time for 94x Forms may have a Deadline Today!
Learn more about today's deadline!

|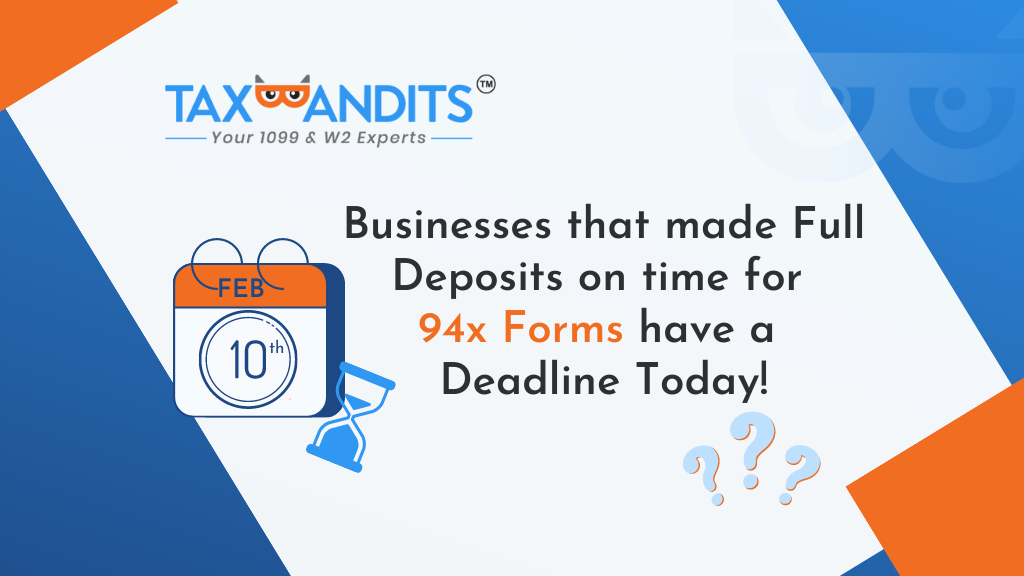 The IRS typically allows certain businesses that have made all of their deposits in a timely manner to file their payroll forms a bit later than January 31st.

The deadline to file the following forms is today, February 10, 2023.

If you made all IRS deposits in full and on time, you will need to file the following forms by today's deadline.

Form 941
Form 941 for 2023 is the Employer's Quarterly Federal Tax Return and it is used to report income taxes, Social Security tax, and Medicare tax withheld from employee's paychecks as well as pay the employer's portion of Social Security and Medicare tax. 

There are also variations of Form 941 for employers that are located in Puerto Rico (Form 941-PR), American Samoa, Guam, and the Commonwealth of the Northern Mariana Islands (Form 941-SS).

Form 940
Form 940 is the Employer's Annual Federal Unemployment (FUTA) Tax Return. The FUTA tax provides funds for paying unemployment compensation to workers who have lost their jobs. Only employers pay FUTA tax and it is not deducted from their employees' wages.

Form 943
Form 943 is used by employers in the agriculture industry to report tax withholding for farm workers. This form is required to be filed with the IRS on an annual basis. 

Form 944
IRS Form 944 is specifically for small business owners to report annual federal income tax & FICA tax with the IRS. Small employers with an annual liability of $1,000 or less for Social Security, Medicare, and federal income tax have to file annual information returns instead of the quarterly form 941.
Form 945
Form 945, Annual Return of Withheld Federal Income Tax, is used to report tax withheld under backup withholding requirements from all non-employees, independent contractors, or freelancers.

Get Started with TaxBandits!
TaxBandits supports the e-filing of all of these payroll forms. We offer a simple e-filing process with automatic tax calculations and the attachment forms you need built-in!
Plus, we audit your forms for errors before transmitting them to the IRS to help you catch the common filing errors that can result in an IRS rejection.

Create your free TaxBandits account today to get started, you only pay for the forms you file!

127 total views, 1 views today