Forget About Missing The Form 1095 Deadline
|
Deadline, Deadline, Deadline! That seems to be the most used word of this season, right?
We're here to help you with the upcoming Form 1095 deadline on March 4th, 2019. 
Let's just face it, tax deadlines will be coming your way "left and right" for the next couple of months.
Whether it's a tax form that your business files each year or requesting an extension of time to file your personal taxes, "like a good tax preparer, TaxBandits is there!"
TaxBandits provides you with everything your business will need to quickly e-file Form 1095-B and Form 1095-C.
Are you unsure of what these forms are or need a little more information about them? Let's dig a little deeper into the ACA (Affordable Care Act) world and find out!
What Is Form 1095?
Form 1095 actually has two entities, which cover specific areas of the Affordable Care Act.
Insurers, self-insuring employers, large employers, and other coverage providers file Form 1095-B or Form 1095-C to the individuals in which they cover.
These forms are statements provided to covered individuals and are used to determine whether they will claim the premium tax credit on their returns.
As the provider, it is extremely important that these forms are filed and distributed on time.
Form 1095-B
Form 1095-B is used to report certain information regarding minimum essential health insurance coverage to the IRS and individuals. This form is typically issued by insurance providers, including insurance companies, self-insured employers, employers with fewer than 50 full-time employees, and other agencies that provide health insurance coverage.
Form 1095-C
Form 1095-C is the annual statement that applicable large employers (ALEs) use to report to the IRS about the insurance offered to its large number of full-time employees.
When Does Form 1095 Have To Be Filed?
For years, 1095 Forms had to be filed by January 31.  The new deadline for Form 1095 is March 4.
Like most tax forms, there are multiple filing due dates that apply to a specific form. The 1095 Form has three important deadlines, one of which we've already discussed.
Other deadlines for Form 1095-B and Form 1095-C are:
February 28th – Paper file with the IRS

April 1st – E-file with the IRS
How Hard Is It To File Form 1095?
Filing with TaxBandits is very simple!
That's because we take what is normally a difficult process and simplify it so that any business owner can complete the filing process in no time.
Information Required To File
The four categories of information needed to file include:
Employer Details:

Name, EIN, Address, and Contact

Employee Details:

Name, Social Security, and Address

Employee Offer/Coverage Data and Codes 
Covered Individual Details
Steps To File Online
Who has time to waste hours on a bunch of complicated steps to file a required tax form? With TaxBandits, you'll be able to file, transmit directly to the IRS, and relax in just 6 simple steps:
Create or sign in to your TaxBandits account

Select "Form 1095-B"

or

"Form 1095-C"

Enter employer/insurer information

Add individual and benefit information

Add covered individuals information

Pay and transmit to the IRS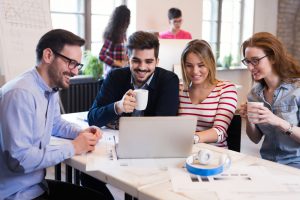 Why File With TaxBandits?
You should file with TaxBandits for a number of reasons!
Not just because we said so, but the numerous features offered through TaxBandits makes e-filing an enjoyable experience and not a burden.
ACA Features include:
Full-Service Option

–

Let us handle your ACA Forms for you!

Bulk Upload

Built-In Error Checks

Postal Mailing

Multiple Tax Year Support

ACA Corrections

Multi-User Access

US-based Support 

and so much more!
We'll Help You Along The Way
Easily meet these deadlines by filing your appropriate forms with TaxBandits. We also provide assistance with filing and answer any questions you may have.
Reach out to our amazing, US-based TaxBandits support team Monday – Friday from 9 AM to 6 PM EST at 704.684.4751. You can also reach us via live chat, or take advantage of our 24/7 email support at support@TaxBandits.com. 
Blog Updated: February 19, 2019
2,442 total views, 2 views today