Have You Seen Trump's New Tax Plan Yet?
|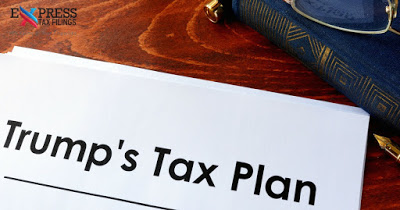 Just last week, President Trump unveiled his new TAX REFORM THAT WILL MAKE AMERICA GREAT AGAIN.
(No, really, that's what it's called.)
To say the plan has been met with scrutiny is putting it lightly. The plan is a simple one, opening with its purpose boiled down into four goals:
1. To provide tax relief for the middle class
2. To simplify the current tax code
3. To promote economic growth for America
4. To accomplish all of this without adding to our current debt and deficit
While these are admirable goals, experts agree more must be done to the plan to prevent economic and budgetary issues elsewhere. For example, the plan calls for an increase in the retirement age to be eligible for social security benefits. According to Senate Minority Leader Chuck Schumer, this could give Republicans incentive to cut the Social Security and Medicare programs entirely down the line should the tax plan be detrimental to the US's deficit, which he argues it will.
Meanwhile, House Minority Leader Nancy Pelosi argues that the plan will only benefit billionaires. This is in response to the parts of the plan that reduce the corporate tax rate from 35% to 15% as well as eliminate all tax deductions, with the exception of mortgage and charitable donations. And NBC argues that even families making $100,000 per year won't be better off under this new plan.
Recently, AOL found when they polled roughly 16,000 taxpayers that nearly 60% opposed the tax plan. They also found that 23% of those polled would need more information on the plan itself, which shows just how important the deliberation over the minute details of this plan will be.
Certainly, rising financial issues for a diminishing middle class point to the severity of the need for a tax plan that helps boost the economy as well as close the gap between the richest and poorest of our nation. And it's true that after the tax plan was revealed, Treasury Secretary Steven Mnuchin said the proposal's intended objective is to lower taxes for the middle class. Unfortunately, however, they're not making any guarantees at this point.
Be sure to stay tuned with ExpressTaxFilings as we continue to follow the deliberations and updates the Tax Reform That Will Make America Great Again is set to go through! And don't forget: you can now e-file your quarterly business taxes on Form 941 with ExpressTaxFilings, along with Forms 1099, 1094 & 1095, W-2, and 8809!