Helpful TaxBandits Features to Help CPAs File 941 this Quarter
Tax pros can cut down their time spent filing 941s this summer!

|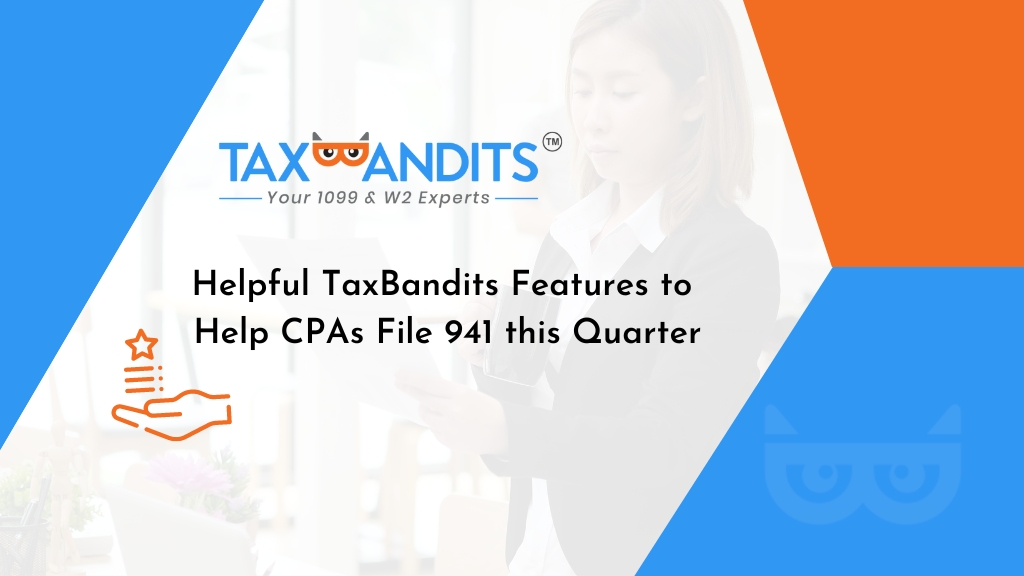 As a tax professional, IRS deadlines are no surprise, and you are well aware that these deadlines don't take a summer holiday. The next notable IRS filing deadline is the quarterly Form 941 deadline. If you are filing this form on behalf of your clients, you're probably preparing for the deadline on July 31, 2023. 

Just because the deadlines never take a holiday, doesn't mean you shouldn't. Be sure to take advantage of these TaxBandits' features to complete your filing responsibilities ASAP. Then, you can spend all of the time saved relaxing this summer!

All of these features are standard fare in your free TaxBandits Tax Professional account.

Prepaid Credits and Bulk Filing
These are the ultimate basics for your quarterly filing, and filing in general. If you're new to TaxBandits, this is where to begin. These are both tools that are designed to help tax professionals file a higher volume of forms with a higher level of efficiency.

Prepaid credits have some awesome benefits,
They allow you to save money! Our pricing is volume-based, so the more you purchase, the more you save.
They allow you to save time! When you begin the checkout process, you can apply credits to your order instead of entering your credit card information each time.
They make the filing process safer! If you are a tax professional, it's likely that your staff is helping you file forms in your TaxBandits account. If your account is stocked up on credits, your staff can easily transmit forms without needing direct access to the company credit card.
Bulk filing is another tool that helps you reclaim your time during the filing process. Using the TaxBandits bulk upload template, tax pros can enter all of their clients filing information and upload it in bulk. Error checks are in place to identify errors, so that you can correct them and re-upload as needed.
Staff Management Tools
If you haven't tried the staff management tools available in your TaxBandits account, this is a missed opportunity! They are a free feature that is available in every Tax Professional account. If you are the administrator of your TaxBandits account, you can grant your staff access to the account and assign them roles and responsibilities.

You can modify or revoke your team's roles and account privileges as needed. Additionally, you can track all activity for each account user from the TaxBandits Activity Log.

Client Portal
When it comes to tax information, whether this is the information included on Tax Form 941, or any other IRS tax form, it can be sensitive. TaxBandits offers a secure option for you and your team to share and receive tax information from your clients.

Once you invite your client to set up their Client Portal, and they complete this simple process, you will have the ability to share information, receive information, and make and respond to observations regarding their filing.

Stay Ahead of the Form 941 Deadline with TaxBandits
The July 31st deadline to file Form 941 will be here before you know it, the sooner you get started, the smoother the filing process will be! TaxBandits is here to help, we offer powerful tools to streamline your clients' 941 filing. 

If you haven't already, we invite you to create a free TaxBandits and start filing today!

223 total views, 2 views today