How to E-file Form 941 with TaxBandits for the First Quarter of 2021
It's time to get started!

|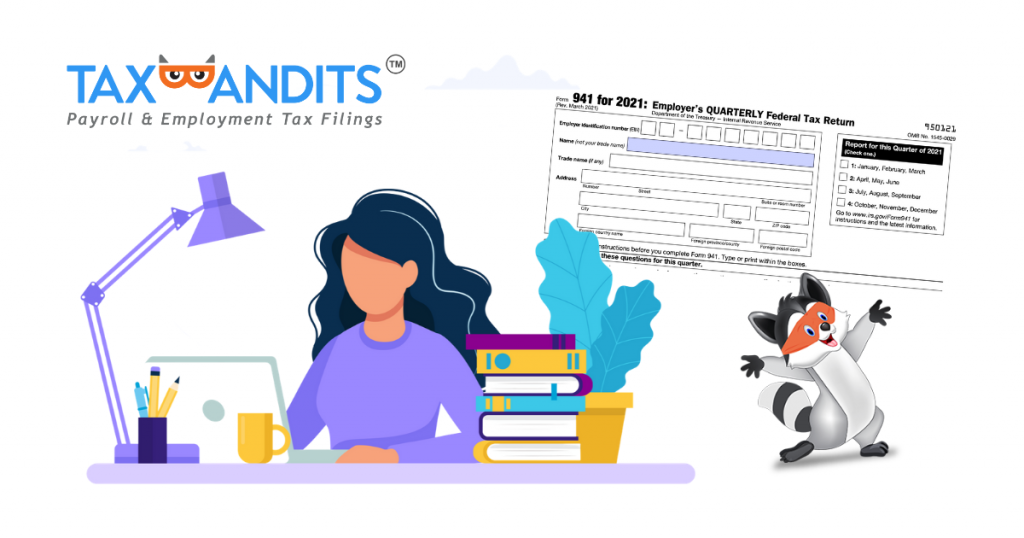 Spring has sprung, the flowers are blooming, and it's almost time to file your Form 941 for the first quarter of 2021! Believe it or not, we've already made it through the first quarter of the year.
With the constant changes to Form 941 over the past year, many business owners and tax professionals are looking for a foolproof way to file their forms this quarter. 
If you haven't heard of TaxBandits, welcome! We offer the simple and accurate e-filing application that will save you time and stress this quarter!

Who Should File Form 941?
The Form 941 is a quarterly employment form that must be filed to the IRS by employers that pay wages to their employees. This form is used to report certain withholdings from your employees' wages including federal income taxes, Medicare, and Social Security taxes. 
With the COVID-19 tax credits available under the CARES Act, employers should report their refundable and nonrefundable credits on Form 941 as well. 
What is the deadline for filing Form 941 Q1?
The deadline to file Form 941 for the first quarter is April 30, 2021. This date falls on a Friday this year. 
What are the benefits of e-filing vs. paper filing?
If you have gotten used to paper filing over the years, changing up your method may seem daunting, but it's not. You will be surprised at how much time and energy you save when filing electronically, especially with TaxBandits! 
The IRS preferred method of filing is e-filing, plus this is the only method where you can receive instant IRS updates from the time you file until your form is accepted.
You are also able to eliminate many simple errors when e-filing, that you are more likely to miss when filing paper forms. For example, TaxBandits has built in audit features that identify IRS business errors, which you can easily correct as you move through the form flow. 
If you are concerned about completing your Schedule B or calculating your refundable and nonrefundable tax credits with Worksheet 1, don't worry. You can easily complete and attach your Schedule B while e-filing Form 941.
The Worksheet 1 is also available during the filing process for your convenience! You can even make your tax payment when e-filing if you have a balance due. 
How do I E-file Form 941 with TaxBandits?
You can easily complete your Form 941 with TaxBandits in three simple steps!
1. Choose the year and quarter 
2. Enter the form information
3. Review and transmit to the IRS
Check out this video to see the e-filing process in action!
Ready to start e-filing and check your Form 941 off of your spring to-do list?
Create your free TaxBandits account today to get started!