Important Deadlines For Form 941 During Tax Year 2022
Stay ahead of your quarterly 941 deadlines!

|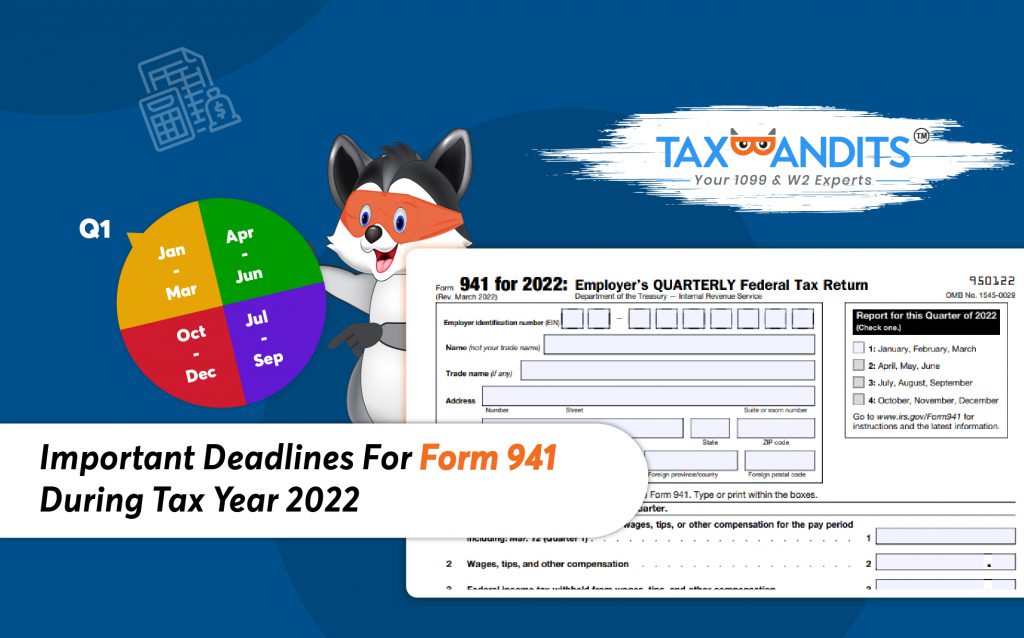 Spring has sprung and the first quarter of 2022 is already coming to a close. It may feel like the quarter just started, but it is already time to start thinking about your first-quarter filing.
Like many previous quarters, there are a few notable updates to Form 941 going into 2022.
When it comes to deadlines and filing requirements for the first quarter, this is an overview of what employers will need to focus on.
What is Form 941?
This tax form is officially called the Employer's Quarterly Federal Tax Return. All employers are required to withhold certain taxes from their employee's paychecks, including Federal Income taxes, Medicare taxes, and Social Security taxes.
Every business with employees is required to file this form on a quarterly basis. The deadline to file for the first quarter is approaching on May 2, 2022.
This form must be filed and submitted with the outstanding tax payment. This tax return can be paper-filed or filed electronically to the IRS. Not only does the TaxBandits team recommend that you file electronically, so does the IRS!
Filing electronically is easier and more convenient for both you and the IRS. The e-filing process with the TaxBandits application is easy and accurate!
What are the Form 941 Deadlines for 2022?
If you paid wages to your employees that are subject to withholding, you are required to file Form 941 each quarter.
Once you have filed your business' first return, you will need to file a Form 941 for every quarter, regardless of whether you have taxes to report, until you file a final return.
There are a few exceptions to this. Seasonal employers aren't required to file every quarter, and those that employ household workers or farm workers have different filing requirements.
As this form is due to the IRS quarterly, there are four deadlines to follow. Keeping track of these dates and filing in a timely manner is the key to maintaining good standing with the IRS.
Quarter 1- May 2, 2022
Quarter 2- August 1, 2022
Quarter 3- October 31, 2022
Quarter 4- January 31, 2023
Please note that some of these deadlines land over a weekend or on a federal holiday, therefore the next business day is the filing deadline.
Filing your Form 941 with TaxBandits
When you are ready to get started on your Form 941 for the first quarter, TaxBandits is here to help! We offer a simple e-filing process that allows you to file quickly and accurately with the help of built-in worksheets, the zero-filing feature for businesses with no taxes to report, and bulk upload capabilities for tax professionals.
We also support Form 941-PR, Form 941-SS, and even 941 Schedule R.
TaxBandits has your quarterly filing covered!
2,375 total views, 3 views today