March 15 is Almost Here! Extend your S-Corporation and Partnership Tax Return Deadline by E-filing Form 7004!
Our friends at ExpressExtension can help you file your 7004 in minutes!

|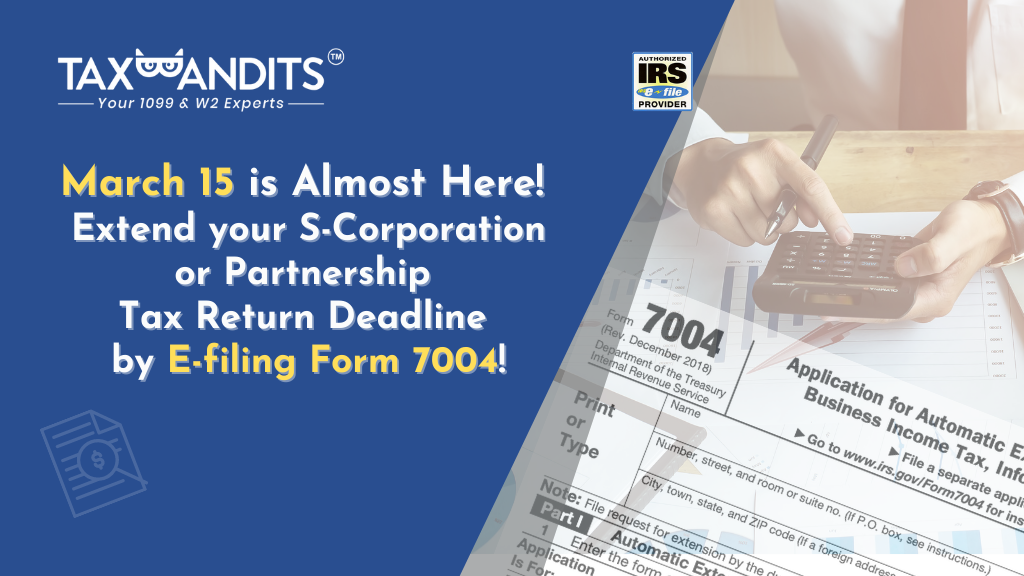 It's that time of the year when one tax filing deadline is followed by another!
March is an important month for businesses in terms of tax filing, especially for S-Corporations and Partnerships that follow a calendar tax year.
Yes! The deadlines to file Form 1120-S, 1065, and certain other business tax returns are on March 15, 2023. 
With just a week until these deadlines, filing an extension Form 7004 now will prevent the stress of last-minute filing and the risk of missing your original deadline.
The good news is that Form 7004 is a simple, straightforward form that can be easily filed by any business. Let's take a closer look at this form.
Form 7004 – An Overview
Form 7004 is a tax extension form that you can use to request the IRS for an extension of time to file your business tax returns for the corresponding tax year.
Upon the approval of your Form 7004, the IRS will grant you an automatic extension of up to 6 months. "Automatic" means that you are not required to provide any explanation to the IRS for requesting an extension. 
You can have your business tax extension approved as long as you file your Form 7004 with the required information on or before the deadline of the form that you wish to extend.
Who May Need to File Form 7004 this March 15?
Form 7004 can be used by most types of businesses to request a tax extension. But, as mentioned earlier, this March 15 deadline is primarily for S-Corporations and Partnerships to file Form 1120-S and 1065, respectively.
Apart from these forms, March 15, 2023, is also the deadline for filing the following business tax forms.
Form 1042
Form 1065-B
Form 3520-A
Form 8612
Form 8613
Form 8804
Form 1066
Does Form 7004 Extend the deadline for Tax Payment?
No! It's important to note that Form 7004 will provide you additional time only to file your business tax returns. You are still required to pay taxes due, if any, on or before the original filing deadline.
Get Started with Our Sister Product ExpressExtension and E-file Form 7004 in Minutes!
Our sister product ExpressExtension is an IRS-authorized e-file provider that supports the e-filing of IRS tax extension Forms 7004, 4868, 8868, and 8809.

With its helpful features, you can complete and e-file your Form 7004 in minutes and get your business tax extension approved by the IRS in a flash.

With ExpressExtension, you can file your Form 7004 from any device. Plus, under their Express Guarantee, you will get an automatic refund of your filing fee if your 7004 form gets rejected by the IRS as duplicate filing.

In addition to IRS extensions, ExpressExtension also allows you to complete and download business tax extensions for certain states.

Ready to e-file your Form 7004 with ExpressExtension? 

558 total views, 2 views today