Paper Filers Have ONE WEEK LEFT to File
|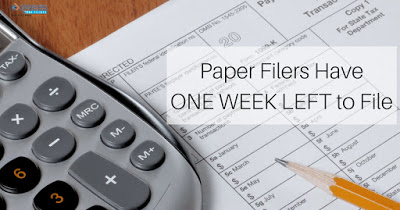 Well, guys, believe it or not, the shortest month of the year is almost over. And that means paper filers are going to need to step to it if they haven't already filed!
That's right, February 28, 2017 (one week from today!) is the deadline for many IRS information returns that filers plan on mailing into the IRS and their appropriate state departments.
So just which forms are due in seven short days? We'll tell ya:
-ALL the 1099s. This includes 1099-MISC, 1099-DIV, 1099-R, 1099-INT, 1099-B, etc., etc. If it starts with a 1099 and ends with one or more letters, it's due February 28.
-W-2s are also due February 28! If you paid some employees and sent them some forms at the end of last month, you gotta mail the IRS's copy of those forms at the end of this month.
-And we hope you didn't forget about the ACA Forms because those are due to be mailed to the IRS by February 28 too! Yep, the ACA's still technically the law so we all still technically have to follow it.
And as an added bonus, the ACA recipient copies are due next week too – although, not until two days after these other forms, on March 2, 2017.
But…psst…wanna know a not-so-secret secret? E-filing is an easier and more secure option to paper filing – so much so that the IRS even recommends filing your forms electronically through an IRS-authorized provider. Plus, if you have more than 250 forms to file as part of a return, they require you to e-file.
And one of the best parts of e-filing? You get an automatic 30-day extension of time to file without having to do anything! The e-filing deadline for all of these forms isn't until March 31, 2017, and if you decide to e-file instead of paper file, you don't need to let the IRS know. Just have your forms e-filed by March 31.
So if your ducks aren't quite in a row just yet, you may want to consider giving e-filing a try. And when you e-file with ExpressTaxFilings, you'll know you're in good hands. We're an IRS-authorized e-file provider, and we've been securely transmitting IRS returns since the 2011 tax year!
To get started, just sign up at www.ExpressTaxFilings.com and from your free account, you can begin filing your IRS forms. And if you have any questions during the process, don't hesitate to reach out to our stellar customer support team. We're available by phone (704-839-2270) and live chat Monday through Friday, 9:00 a.m. to 6:00 p.m. EST; we also provide email support 24/7 at support@ExpressTaxFilings.com!