Preparing to Meet your ACA Recipient Copy Deadline with TaxBandits
Mail your 1095 copies by March 2, 2021!

|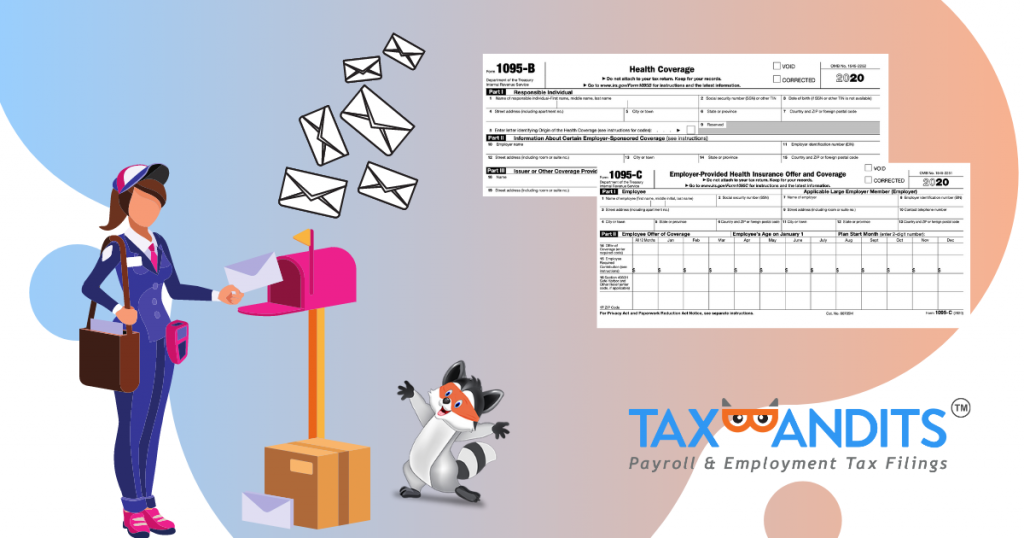 March is right around the corner and this means that the ACA recipient copy deadline is also on it's way. This means it's time for all business organizations that are required by the IRS to complete ACA reporting, to prepare for their recipient copy deadline on March 2, 2021.
If your organization is required to file Forms 1095-B and Forms 1095-C, now is the time to get serious and complete all of your forms ahead of the deadline. With TaxBandits, you can easily e-file these forms and take advantage of printing and mailing solutions for your recipient copies!
Here is what you need to know to make your ACA deadline!
Understand your ACA reporting requirements
The IRS lays out the ACA reporting requirements in Sections 6055 and 6056 of the IRS code.
Under Section 6056, the IRS mandates that all applicable large employers, or ALEs must provide minimum essential coverage to their full-time employees.
Under Section 6055, in addition to providing minimum essential coverage, ALEs must report this information to the IRS and provide a copy of the information returns to their employees as well.
In addition to applicable large employers with 50 or full-time employees, insurance carriers, employers who offer self-funded group health insurance, and any other health plan sponsors must report this information to the IRS. Those that fail to do so are liable for an employer- shared responsibility payment, which is basically just an IRS penalty.

Understand your ACA Forms
In addition to the cover pages Form 1094-B and 1094-C, there are corresponding Forms 1095-B and 1095-C, these are the forms that must be completed and furnished to the recipients. 
Form 1095-C is designed by the IRS to capture enough information about the employer's offer of health insurance coverage and to verify that these employers are in fact meeting the requirements for minimum essential coverage.
Form 1095-B reports information on individuals who are covered by minimum essential coverage or MEC. This form provides proof that an individual was covered by the required level of coverage under the ACA. This was especially important when the individual mandate was in place and individuals without health insurance were subject to penalties.
Visit https://www.taxbandits.com/aca-forms/difference-between-form-1095-b-vs-1095-c/ to know the difference between Form 1095-C vs Form 1095-B.
Understand your ACA Deadlines
There are a few deadlines that employers must be aware of.
The recipient copy deadline, the most pressing deadline, is March 2, 2021.
The deadline to file paper copies with the IRS is February 28, 2021.
The deadline to e-file with the IRS is March 31, 2021.
It is also important to note that all employers filing more than 250 returns are required to file electronically.
Understand the TaxBandits Bulk Upload Feature
The bulk upload feature from TaxBandits is a great tool for ACA reporting! You may be filing for over 50 employees or even on behalf of different employers as a tax professional, the bulk upload template is designed to streamline the process.
Simply download the template for either Form 1095-B or 1095-C and follow the instructions on filing it out. Our template includes sample data to help you upload all your info correctly, and there is even a code sheet to help you check your ACA 1095-C codes. Then, all that's left is to upload the template, complete with the employee information.
Check out this video to learn more about the process!
Start filing!
Now, that we've covered the basics and the TaxBandits tools for easy filing, it's time to get the ball rolling!
Sign in to your TaxBandits account today, or create a free account to get started.
Printing and mailing your forms is the key to making your recipient copy deadline run smoothly. TaxBandits offers a complete print and mail solution, we even validate your recipients addresses against the USPS database.
Remember, one of the greatest perks of filing with TaxBandits is the excellent customer support team. If you find yourself needing assistance during the filing process, our team is available to help! Contact us by phone, email or live chat.