SPAN Enterprises Ranks #1150 in 2015 Inc. 5000
|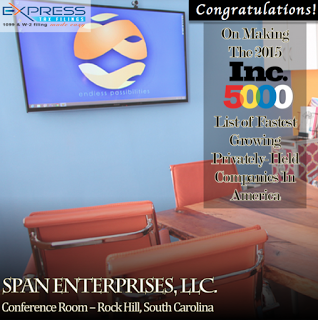 It's a PARTY!!!
ExpressTaxFilings' parent company,
SPAN Enterprises,
ranks #1150 in 2015
Inc. 5000
list of fastest-growing companies. Along with its Inc. 5000 ranking, SPAN also ranks #11 in the Charlotte Metro Area and #1 in South Carolina for software in the entire state.
From our Rock Hill headquarters in South Carolina, SPAN has developed, launched, and supported over fourteen cloud-based and mobile applications including the successful line of e-filing products – ExpressTaxFilings,
Express990
,
ExpressExtension
,
ExpressTruckTax
, and
ExpressIFTA
.
Our goal with ExpressTaxFilings is to provide you with the complete fax filing solution for generating and e-filing your 1099 and W-2 Forms with the IRS/SSA. We achieve this by bringing a product that you can be proud to use, and be most satisfied with. We strive to make your tax season as simple, and as stress-free as possible. Because of all your feedback and support, we are constantly coming up with ideas and improvements that will better serve you, and keep us at the forefront of the tax-filing industry.
Our satisfaction comes from the individual attention that we give each and every one of our users, which is why you'll always receive help from a live person whenever you contact our support teams. Our expert professionals know the in's and out's of the filing process, and we pride ourselves on providing you with the most outstanding support experience of a lifetime.
Customer satisfaction is our heartbeat here at ExpressTaxFilings as we operate in the historic downtown area of Rock Hill, SC. Our values are based upon big ideas growing in small towns, and that there are endless possibilities, even if your business overlooks the historic district of a small downtown. The success of our efforts come from the impact we make on your life each and every time you use our services.
We, at ExpressTaxFilings, would like to thank you all for your continued use and support of our services. For questions or any assistance with our tax, e-filing services, you can contact us at (704) 839-2270, Monday through Friday, from 9am to 6pm Eastern Standard Time, email us 24/7 at support@expresstaxfilings.com, or chat with us live at www.expresstaxfilings.com.