Tax-Free Weekend in South Carolina
|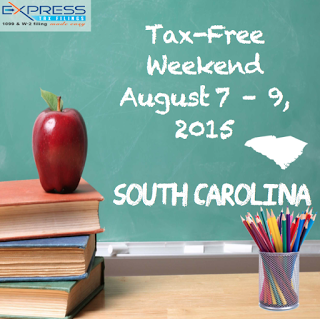 Finally… It's that time of the year. We talk about taxes, season-in and season-out, but now you can actually take a break from taxes… Well, from sales tax at least. This upcoming weekend is the anticipated tax-free weekend for the state of South Carolina. The weekend event kicks-off 12:01AM on Friday, August 7, 2015 and goes on until 11:59pm on Sunday, August 9, 2015.
During those days, you'll find several items exempt from the state's six percent sales tax, along with any other applicable local taxes. The weekend falls conveniently before the official start of the school year in hopes of aiding parent's "Back-to-School" shopping efforts. Items that you won't have to pay a tax on include
School supplies and book bags
Bedspreads and linens
Clothes and shoes
Computers and printers
You can also save money on bath mats, calculators, computer software, and shower curtains. However, you won't find any tax breaks on cosmetics, eyewear, furniture, jewelry, wallets or watches.
A list of what exactly will be tax-free can be found HERE.
South Carolina's Department of Revenue estimates that shoppers statewide save about $3 million during the course of the tax-free weekend. Local shopping is a year-round effort done by the state's Chamber of Commerce. The regional chamber estimates that 45 cents of every dollar you spend at a local business stays within your community.
Fun Fact: The National Retail Federation's Back-to-School Spending Survey estimates that the average family with children in grades K-12 will spend about $630.36 on electronics, apparel, and other school needs this year.
If you're not a resident of South Carolina, you can out if your state has a tax-free weekend HERE.
You can also visit your state's website and look for their Department of Revenue page; many states will have all the information you need right there.
Don't forget – If you have any questions or need any assistance with our tax, e-filing services, you can contact live professionals from our Rock Hill, South Carolina headquarters at (704) 839-2270, Monday through Friday, from 9am to 6pm Eastern Standard Time, email us 24/7 at support@expresstaxfilings.com, or chat with us live at www.expresstaxfilings.com.