TaxBandits Offers Seamless E-filing through API Integrations
Learn about the TaxBandits API solution for IRS e-filing!

|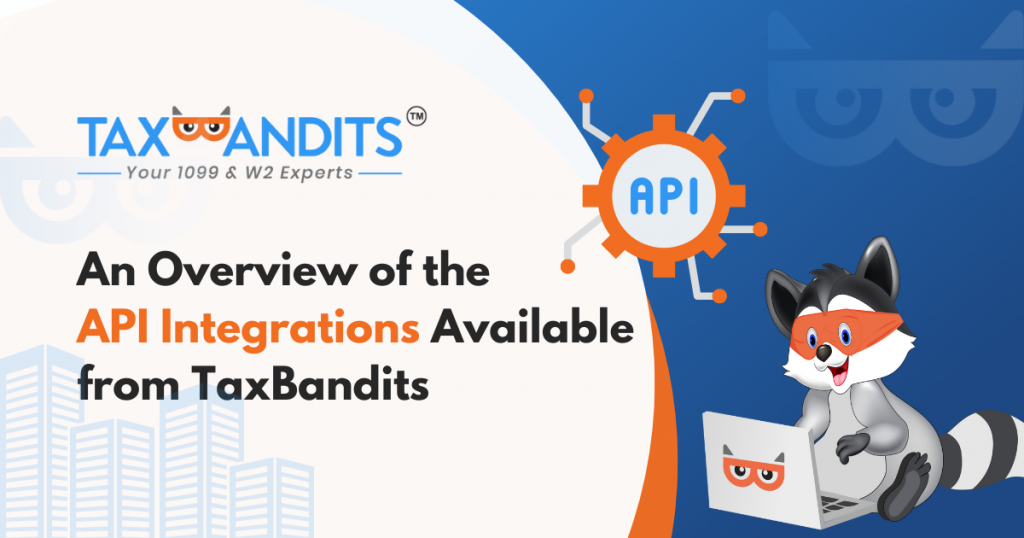 As an industry leader in e-filing IRS and SSA business tax forms, TaxBandits offers a wide range of solutions for businesses of every size and need.

For business organizations that are interested in broadening their offerings to include e-filing for their clients, our API solution is the ideal choice!

Here is a quick overview of what TaxBandits API is, who it best serves, and what the process looks like.

What is TaxBandits API Integration?

Let's get started with the basics of API. This stands for Application Programming Interface. API allows two or more computer programs to communicate with each other. By communicating with each other, two applications can run seamless, automated processes.

So, how does this apply to e-filing? It's simple, you are able to extend the capabilities of your existing software by giving it access to communicate with TaxBandits. Once integrated, this automates the e-filing process.

Who Benefits from API Integrations?

There are a number of business organizations that can benefit from TaxBandits API Integrations. Any business that is filing a high volume of forms with the SSA/IRS is a potential candidate for API.

Many businesses that are already offering their clients payroll solutions can also benefit, as TaxBandits allows them to expand their software to include e-filing services. TaxBandits even offers a White Label option that comes customized with your own company's branding.

Some examples of API clients that TaxBandits currently supports are:
Payroll providers
Reporting agents
HCM software providers
Service providers
Form filing services
Large enterprises.
What are the Key Features of TaxBandits API?

There are many great features available through TaxBandits API offerings. From a business standpoint, here are some of the benefits of integrating with TaxBandits.

E-file the business tax forms that your clients need (1099s, W-2s, 94x)
Real-time IRS status updates are available using webhooks
Allow your clients to request Forms W-9 from their vendors as needed
Postal mailing services are available for all recipient copies
How does my team get started with TaxBandits API?

The first step in the process is to reach out to our team. We can set up a convenient time to get to know your organization and your filing needs and discuss how our API can address these needs. The next step is sharing our API documentation with your team and creating your secure sandbox account.

From a developer's standpoint, the process of getting started is simple and well-documented.

We offer complete documentation that is easy to follow and lays out the set-up procedure, making it easy for your development team to implement.

Your team can create a secure sandbox environment for testing, this account allows you to get familiar with our process. 

Are you interested in learning more about the TaxBandits API solution? Visit our developer site for more information and to get started!

298 total views, 1 views today