Today is the Deadline to file Form 941 for the First Quarter of 2023!
Get started now to meet the deadline for Q1!

|
5 Features to Help You File Now!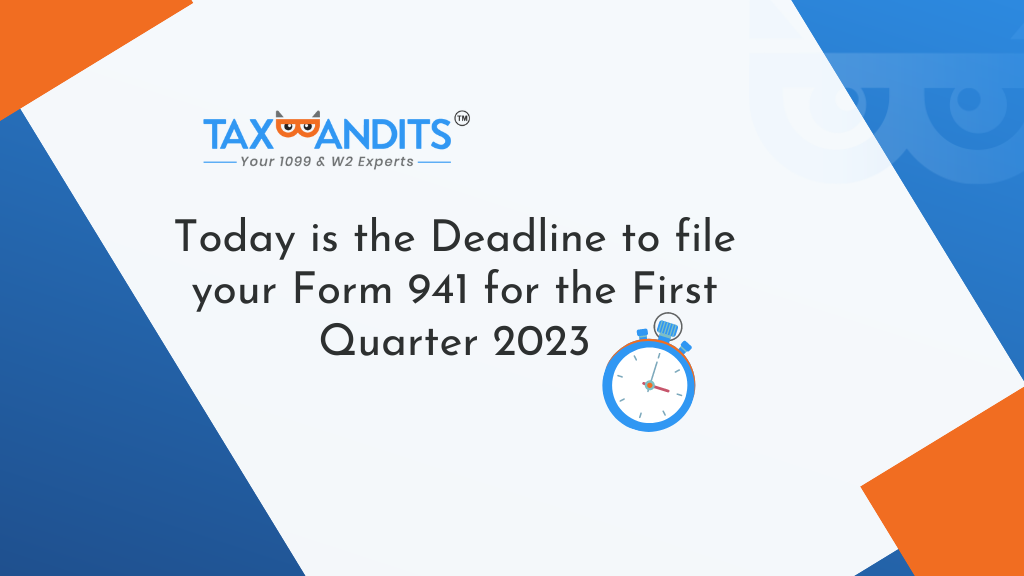 That's right, today is the deadline to file Form 941 for the first quarter of 2023! If your business is required to file this quarterly Payroll Form with the IRS, it's time to get started now.

While you may be wondering how you could possibly start filing now and still meet the deadline, there is indeed hope. With TaxBandits' time-saving features and easy-to-follow filing process, you can file your form in minutes and avoid the IRS penalties that come along with procrastinating.

Don't believe us? Here are five features to help your file for your business today!

Less Calculations, More Accurate Forms!
That's right, TaxBandits automatically calculates the tax amounts on your 941 form as you complete it. TaxBandits helps calculate the fields of your form to avoid those small clerical errors that can result in an IRS rejection.

Complete & Attach Schedule B
If your business is a semi-weekly depositor, you are required to complete and attach Form 941 Schedule B. TaxBandits supports Schedule B and filers can easily complete it as they file Form 941.

Complete & Attach Form 8974
Form 8974, Qualified Small Business Payroll Tax Credit for Increasing Research Activities is used by small businesses to claim a tax credit of up to $250,000. Much like Schedule B, you can easily complete this during the Form 941 filing process, and skip it if it doesn't apply to your business. 

No Taxes to Report, No Time to Waste
If you are an employer that hasn't paid wages during the quarter, you are still required to file Form 941 online, unless the business is a seasonal one. By selecting the Zero-filing option, TaxBandits will auto-populate zeroes where they belong and you are able to skip through the form in minutes. 
Save Time and Money with 941 Credits
Whether you are a business owner that files Form 941 for your business quarterly or a CPA that is responsible for multiple clients, prepaid credits help you save both time and money. Maximize your savings with volume-based pricing and skip the checkout process when filing a form by applying for your credits.
There you have it, an overview of our time-saving Form 941 features! As you can see e-filing Form 941 with TaxBandits is easy and efficient. You may be down to the wire, but making your deadline is possible! Create your free account to start filing now for just $4.95 per form!


91 total views, 1 views today