Create a TaxBandits Account to Request Your First 5 W-9s for Free
Now is a great time to get started with the TaxBandits W-9 Manager!

|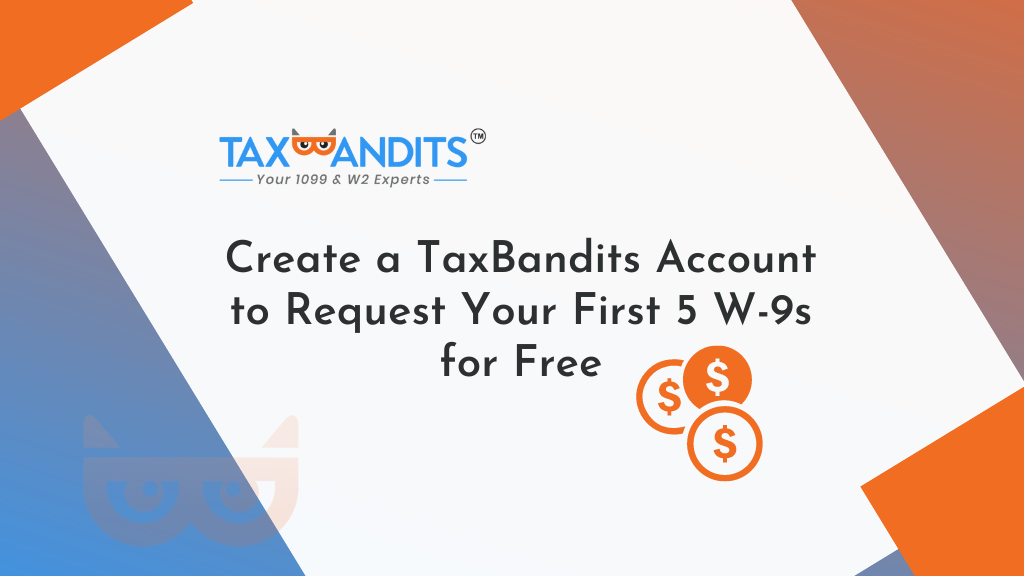 Summer is here and with the wonderful weather, vacations on the calendar, and most IRS filing deadlines far off in the distance, 1099s may be the last thing on your mind!

However, this time of year is actually a great time to get organized and put processes in place. This way, when the fall and inevitable year-end deadlines finally arrive you can expect a smooth filing season.

Here is a quick overview of Form W-9 and how it can be a game changer for your business and filing processes!

What is Form W-9?
The W-9 Form is officially called the Request for Taxpayer Identification Number and Certification. There are many complex IRS tax forms, this is not one of them. It's pretty straightforward. This is not a form that is actually filed with the IRS.

If it's not a Filing Requirement, Why Use W-9 Forms?
Great question! With so many forms that are required to be filed with the IRS, why spend time on a form that isn't required?

Here's why. Businesses may need to file tax forms with the IRS to report payments they made to vendors and independent contractors throughout the year. To file these forms (usually 1099 forms), the business must have the vendor or independent contractor's Taxpayer Identification Number (TIN), legal name, address, and more.

Asking the vendor to complete Form W-9 is an easy way to collect and maintain this information. However, the process of requesting Form W-9 can be a tedious one if you are sending and receiving paper forms.

Go Paperless with the TaxBandits W-9 Manager
TaxBandits offers a solution that streamlines this process and eliminates paper forms and wasted time. With the W-9 Manager from TaxBandits, you can easily collect electronic copies of Form W-9 from vendors, complete with an e-signature.

To get started, all you need is the vendor's name and email address. Once the request is sent, the vendor will receive an email with a secure link to complete their W-9 Online. Once the vendor completes the W-9 and provides their e-signature, they will receive a copy of the forms for their records and the TaxBandits client that made the request will be notified.

Upon notification, the TaxBandits client can review and approve the W-9 form, which will then be stored securely in their account. When it comes time to file tax forms for this vendor, the information will already be available and verified by the vendor.

Simplify your Form 1099 E-filing Process!
At the end of the year, when it comes time to file 1099 forms to report the payments made to vendors and independent contractors from your business, W-9 information is crucial.

You can easily access the information in their W-9 Manager to complete 1099 forms. This includes the vendor's basic information as well as their Taxpayer Identification Number (TIN).

Create a TaxBandits Account and Get Started!
Are you ready to take the TaxBandits W-9 Manager for a spin?! For a limited time, when you create a TaxBandits account, you can request your first 5 Form W-9s for FREE.

Now is a great time to get acquainted with TaxBandits and begin gathering your vendors' information using the W-9 Manager. This will make your upcoming tax season smooth and stress-free!
The TaxBandits API provides a comprehensive electronic filing solution to all service providers, enabling seamless processing of Forms 1099 API & TIN Matching API.

Create a TaxBandits account today!

271 total views, 1 views today