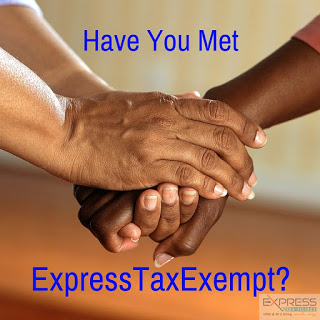 As your best 1099, W-2, and ACA e-filer, we at ExpressIRSForms suggest we play a little game called "Haaave You Met ETE?"
*taps you on the shoulder*
Hi! Have you met ExpressTaxExempt?
ExpressTaxExempt is our sweet and helpful sister product for non-profit and tax-exempt organizations. And since we know a lot of our users have causes they're passionate about – and even already participate with non-profits to support those causes – we figured it's about time you two got to know each other.
The Forms
ExpressTaxExempt offers three versions of the 990 Form most organizations use to report their tax-exempt activities each year, Form 990-N (e-Postcard), Form 990-EZ, and Form 990 (Long Form). How much your organization made in gross receipts during your tax year determines which form you need to file:
-if less than $50,000, Form 990-N (e-Postcard)
-if between $50,000 and $200,000, Form 990-EZ
-if more than $200,000, Form 990 (Long Form)
With ExpressTaxExempt, you can also e-file Parts I and II of Form 8868, the form used to apply for an extension of time to file 990 Forms. Part I grants you an automatic three extra months to file, and Part II is used to apply for a non-automatic three additional months.
The Features
So now you may be thinking, "Well, I like you guys, but I'm not so sure about this ETE. I mean, I've already got a good thing going with my current e-filer/accountant." To which we say, "Well, you don't have to switch if you don't really want to, but look at all the cool features you'll be missing out on:"
-User-friendly, interview-style format
-ETE's Form 990-N and Form 8868 mobile apps for quick and easy e-filing on the go
-FREE e-filing for Form 990-N for the current tax year
-Multiple-user accounts for reviewing and approving forms
-Bulk upload options for entering Revenue, Contributions, Expenses, and Officers
–Competitive pricing for each form and associated schedules
Coming Soon
And as if that wasn't enough, ETE wants to do even more for you (we told you she's helpful). That's why we're working on adding Form 1023, Application for Recognition of Exemption, to the list of forms available through ETE. We're also working to add a few more goodies for tax-exempt organizations to the site, so be sure to check back in with ETE regularly to see all that she can do for you!
For more information about using ExpressTaxExempt, you can contact our friendly and knowledgeable customer support team at (704) 839-2321, Monday through Friday, 9:00 a.m. to 6:00 p.m. EDT. We're also available by live chat during those times and available 24/7 at support@expresstaxexempt.com.
In the meantime, if you have any questions for ExpressTaxFilings/ExpressIRSForms, we keep the same hours as ExpressTaxExempt, only our phone number is (704) 839-2270 and our email address is support@expressirsforms.com!