How to Get an IRS Online Signature PIN to Complete Form 941
|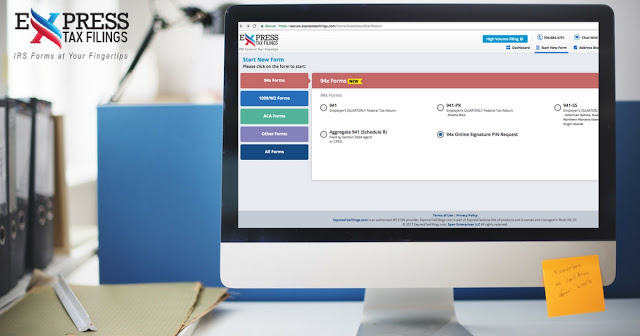 We hope by now you've realized that you can quickly and easily e-file Form 941 with ExpressTaxFilings! But did you know that you can also apply for an Online Signature PIN to complete Form 941 from your account too? Because you totally can!
Why Do I Need an Online Signature PIN?
When you e-file Form 941, the IRS requires a valid e-signature as an extra line of defense in making sure the person filing your business taxes is you (or, at least, someone you've authorized to file for you).
There are actually three different ways you can provide a valid e-signature on your 941 Form: two require you to complete an additional form (Form 8453-EMP or 8879-EMP) and the third is to provide your 10-digit Online Signature PIN, assigned to you by the IRS, on Form 941.
How Do I Apply for One?
To start, log into your ExpressTaxFilings account! Or, create one if you need.
Next, from the Start New Form menu in the 94x Forms section, select the 94x Online Signature PIN Request option:

Then, you'll be prompted to enter your employer details or select them from your address book if you've already entered them before: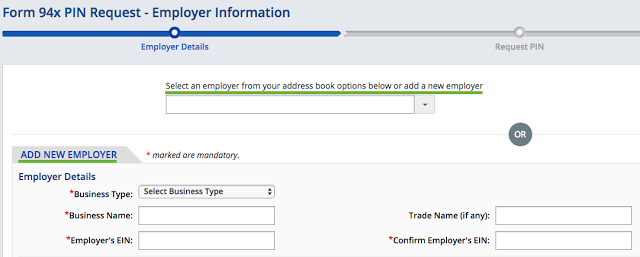 After you click Next, you'll come to the Request PIN screen: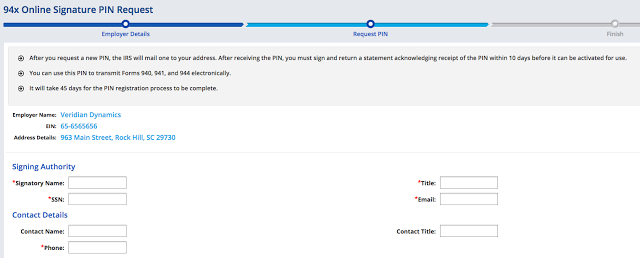 Here, you'll need to provide all the required information on your signing authority. These details include the name, title, social security number, and contact details of the person to whom the PIN will be designated, which is whoever will be signing the 940, 941, or 944 Forms you'll e-file in the future.
Now, you may have noticed in that last picture the few PIN reminders at the top of the page. It's true that the Online Signature PIN process can take up to 45 days to complete, so unless you started a few weeks ago, you'll need to fill out Form 8453-EMP to complete your first quarter Form 941 with ExpressTaxFilings (don't worry, we make that easy too). But if you go ahead and do this now, you'll have it in time for your second quarter filing in a few months!
Once you enter your signing authority details, you will also need to provide your credit card information but this is just to verify your identity for your ExpressTaxFilings account. Your card will not be charged for your Online Signature PIN application because the process is absolutely free with ExpressTaxFilings!
Then, all you have to do is hit the Send PIN Request button and you're on your way to getting that PIN! We'll send you an email confirmation that your request was sent and in a couple of weeks, you should expect to receive your PIN in the mail. Once you do, you have ten days to sign one of the papers it comes with and mail it back to the IRS to confirm that you did get your PIN.
If you have any questions about the PIN application process, don't hesitate to give us a call! We're available by phone (704-684-4751) and live chat Monday through Friday, 8:30 a.m. to 5:30 p.m. EST and by email 24/7 at support@ExpressTaxFilings.com!