Introducing TaxBandits: Designed for Small Businesses and Nonprofits
|
If you've recently visited our website, you probably noticed a few changes – a new website design, new name, new logo, and even a cool new mascot. Well there's a reason behind this new look…
ExpressTaxFilings has officially rebranded as "TaxBandits" to serve you better! Created for small businesses, nonprofits, and tax professionals, TaxBandits was designed with you in mind.
Curious as to Why We Rebranded?
Ultimately we want to provide resources to help you and your business succeed. The ExpressTaxFilings team met to strategize on new ways to better serve you. In the past, users would have to utilize our sister products such as ExpressTaxExempt, ExpressIRSForms, and ExpressExtension to e-file their appropriate annual tax returns.
After several conversations and strategy meetings, we decided to have all of our tax filing forms be under one umbrella, hence, the creation of TaxBandits, the ultimate e-filing solution for small businesses, nonprofit organizations, and tax professionals.
TaxBandits offers the most simplified and streamlined, interview-style e-filing process that helps to keep your business moving in the right direction.  In an effort to help you achieve greatness, we provide necessary IRS forms at your fingertips. we now provide the following tax forms all on one website to make things easier for you.
Supported Forms
TaxBandits supports the tax filings of several forms to meet the needs of all of our clients. Users can easily file any of the following forms with our database:
Form 990-N

Form 990-EZ

Form 990

Form 990-PF

Form 1120-POL

Form 8868
Form 941

Form 941-PR

Form 941-SS

Form 941 Schedule  
Form 1099-MISC

Form 1099-INT

Form 1099-DIV

Form 1099-R

Form 1099-S

Form 1099-B

Form 8809

Form 1099-Correction
W-2 Forms:  Form W-2 and Form W-2c
Form 1095-B

Form 1095-C

Form 1094-B

Form 1094-C
Extensions: Form 8809 and Form 8868
TaxBandits Exclusive Features
TaxBandits also has numerous exclusive features that accompany the various forms we offer. Some of these features include:
Form 990 & 94x Series – Prior-Year tax filing, online signature PIN, supported Schedules, Form 941-V Payment, real-time updates, built-in error checks, activity log, and more.
Form 1099 Series & W-2 Forms – State filings, bulk upload, postal mailing, purchase credits, Form 1096 summary, Form W-3, US-based support, and more.
ACA Forms & Extensions – Full service option, ACA corrections, pay balance due, and many of the features listed above.
Upcoming New Features
With 2018 right around the corner, we have some great new features that will be released such as:
Adding More Forms

ExpressExtension will be migrated to TaxBandits which will add Form 4868 & Form 7004.

New Forms 940, 944, 945 and 941 correction will be added.

Other possible 1099 forms.

Prior Year Filing – Supporting prior tax year filing for W-2 and 1099 forms.
Direct State Filings – Support direct state filing of 1099 forms for applicable states. 
Making Things Simple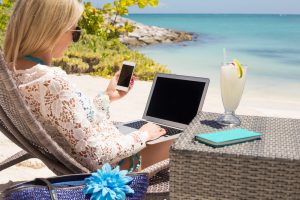 We at TaxBandits believe that while taxes can be complicated, solid research paired with great customer service, along with accurate and efficient software, can make your tax filing experience much easier. Our cloud-based software is supported here in the U.S., and we carefully study tax guidelines to stay ahead of changes.
With U.S.-based customer support, we can assure you that we will answer your call faster than the IRS will. At TaxBandits, we constantly strive to lead our clients as a compassionate resource, guiding you through complicated tax matters and making the e-filing experience as accurate and efficient as possible. We're here to support businesses because when you succeed, we succeed!
Contact Us
When you call TaxBandits, you'll be greeted by a friendly support team member ready to help you! Phone support is available Monday through Friday, 9:00 a.m. to 6:00 p.m. EST at (704) 684-4751. Reach us 24/7 via email support at support@TaxBandits.com or by Live Chat and we will give a speedy response.