IRS Form 941 Penalties and How to Avoid Them
Don't let IRS penalties scare you this Halloween!

|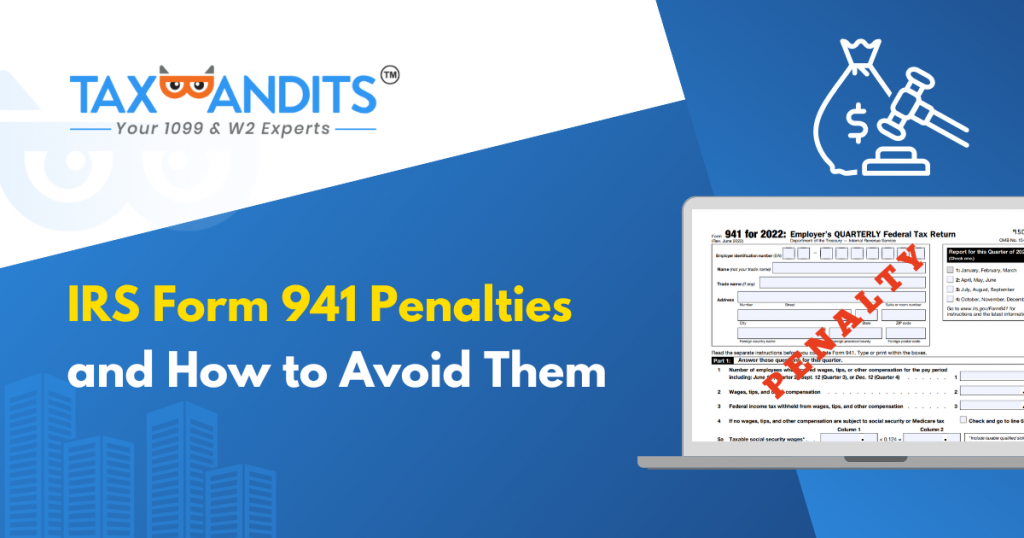 Don't let the scariest part of Halloween this year be potential IRS penalties! Especially when they can be easily avoided. 
Remember, the deadline to file Form 941 for the third quarter of 2022 is just a few days away on October 31, 2022. 
So if you haven't begun the filing process yet, now is the time! If you were considering filing your form late, well that is better than never, but this article may just motivate you to get started today!
What is Form 941 and who must file it?
Form 941 is a payroll tax form that is used by businesses that withhold Medicare, social security, and income taxes from their employee's paychecks. This form is filed with the IRS every quarter to report this information. 
Once a business begins filing Form 941, they are required to continue filing every quarter until the business closes and files its final form. There are only a few exceptions to this rule, the main one being seasonal employers. Seasonal employers are only required to file for the quarters that they operate. 
The majority of the businesses paying wages to employees that are subject to tax withholding must file Form 941 with the IRS. 
What are the penalties for late filing?
For every month that your business is late filing Form 941 to the IRS, you will incur a penalty totaling 5% of your balance due to the IRS. You will continue to incur this penalty every month for up to 5 months or 25% of your total balance due. 
After this point, if your business has still failed to file you will be charged .5% of the tax payment owed to the IRS. This will increase to 1% of your total balance ten days after you receive a notice of levy from the IRS. 
How can your business avoid IRS penalties for 941?
Staying ahead of your business' IRS deadlines is the easiest way to avoid IRS penalties. You can't be penalized for late filing if you file on time. The next deadline is just a few days away on October 31, 2022. 
If you have fallen behind on your quarterly filing obligations, this can be daunting, but your best option is to get caught up as soon as possible. TaxBandits is here to help you get caught up and maintain your IRS compliance.
E-file Form 941 in Minutes with TaxBandits!
The TaxBandits Form 941 e-filing process is designed to be simple and you can complete your business' form in minutes. Before you sit down to file you will need to have your basic business information, the tax liability for the quarter, wages paid to employees, and withholding amounts on hand. 
Once you have this information handy, you can begin filing at taxbandits.com by creating your free account. 
During the filing process, you will be prompted to complete any necessary worksheets or attachments, like Schedule B based on the information you provide. Plus, if you are filing for multiple businesses, you can take advantage of our bulk upload template. 
Once you are finished, you can pay and transmit your form, TaxBandits will provide updates on the status of your form with the IRS.

124 total views, 1 views today