It's Almost Time for Second Quarter Filing!
|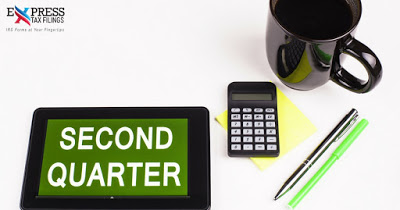 Believe it or not, June is almost over – and with it, the second quarter of the fiscal tax year! And you know what that means:
Second Quarter Filing Starts July 1
And it ends July 31! For your second quarter Form 941, you'll be reporting taxes and tax information from April, May, and June of this year. You can submit your Form 941 on paper OR you can e-file it! Just remember that if you e-file, you must be prepared to e-sign your form, either with an Online Signature PIN or by using Form 8453-EMP.
E-filing Form 941 with ExpressTaxFilings
At ExpressTaxFilings, we make e-filing your Form 941 easy! Whether you have an Online Signature PIN or need to use Form 8453-EMP, you can e-file your second quarter 941 Form in just minutes using ExpressTaxFilings. The seven steps to e-filing with ExpressTaxFilings are
Log into your account
Begin a new 941 Form
Choose your tax year and filing quarter (in this case: 2017 and second quarter)
Follow our simple step-by-step process to enter all of the information required on Form 941
Enter your Online Signature PIN or select to complete Form 8453-EMP to e-sign your form
Pay our one-time transmittal fee and review your 941 Form
E-file your Form 941 securely with the IRS
With ExpressTaxFilings, you even have the option to pay any taxes due at the time of your 941 Form e-filing – it really is an all-in-one process!
So start getting everything together to e-file your second quarter Form 941 for the 2017 tax year: the time to file is coming up!
If you have any questions about e-filing your Form 941 with ExpressTaxFilings, we're available by phone, live chat, and email to help! Our US-based customer support team will be happy to answer any questions that may come up in your e-filing.