What You Need To Know About Your 4th of July 2019 Office Party
|
One of the summer's most anticipated holidays is Independence Day 2019. If you're anything like me, you've procrastinated on making your 4th of July 2019 plans and suddenly realize you need to do something to celebrate.
Whether it's just inviting a few co-workers, family and friends over or hosting a 4th of July 2019 office party for your employees or volunteer team, I'm sharing some great tips on what you need to know about your 4th of July 2019 office party. 
What You Need To Know About Your 4th of July 2019 Office Party
Create A Guest List
The first and most important aspect of planning your 4th of July 2019 gathering is the guest list.
You've probably asked yourself, "Who should I invite?" 🤔 No matter the occasion, how great the food is or how nice you have decorated the venue, a July 4 gathering won't be successful unless you have the right set of folks in attendance that will bring you Good Vibes Only!
Here are a few tips on the best way to determine your guest list:
Figure out how many people you can invite.

Make a list of non-negotiable guests (guests that must be invited).

Consider who would enjoy the party most.

Be specific about invitees bringing other guests.

Avoid potential conflicting invitees (guests that have problems with each other).

Remember,

Good Vibes Only!

If you can't avoid this, have a private conversation with the invitee(s) to make sure they can remain respectful towards each other during the gathering.

Request an RSVP

Tip: If several of your invitees can't attend, invite others that may not have made the original invite list to ensure good attendance to your gathering.
Once you have determined your guest list, send out your invites ASAP via Facebook, Evite, text message, etc. so you can continue planning.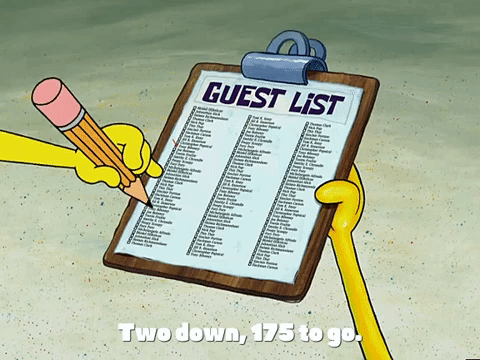 Keep Your Menu Simple
The great thing about 4th of July 2019 gatherings is that a simple menu can go a long way.
Standard menu items such as hamburgers, hot dogs, baked beans, pasta/potato salad, chips, etc., can easily be done affordably. And how could we ever forget about the decadent 4th of July desserts? 
If you want to switch things up, there are some incredibly easy recipes you could make in advance or right when the gathering starts that would add a special touch:
Let Your Guests Help
Most times, when you invite someone to a celebration like this, they will ask you if there is anything you need them to do or bring…take advantage of this help!
Ask your guests to bring their favorite side item or dessert to extend your menu.
If you have a guest that has an eye for decor let them assist with decorations, and that one guest that knows all of the latest music–have them create a Fourth of July playlist and be the DJ for the party.
Long story short, utilize your resources! You may even find a free bartender among your guests too. 👀  
Use Inexpensive Decorations
Let's cut to the chase with this one. There's absolutely no need to go overboard and spend tons of money on a July 4 gathering.
If I were you, I would take a trip to some of my favorite stores and get inexpensive decorations that would be perfect to celebrate the fourth.
Dollar Tree, Party City, and Hobby Lobby are just a few of my favorites. Swing by on your lunch break or after work to get everything you need.
Entertain with Games
Now that you have your guest list complete, menu set, a few helping hands, and decorations on deck have a few games or activities planned to keep your guests entertained during the gathering.
These can be traditional games or modern ones.
Check out Reader's Digest 21 Crazy-Fun Fourth of July Part Games That Will Turn Your Backyard Into Party Central for great game ideas.
P.S. Don't forget the fireworks…it is the Fourth of July! 🎇
Host an Office Party
Will your business or organization be active on Independence Day 2019? If so, host an office party on July 4th and include the tips we've covered today to give your team an incentive for working on a federal holiday. 
We have office parties all the time here at TaxBandits. They are always enjoyable and help build employee engagement throughout the year.
If you are planning an office party or 4th of July 2019 celebration for your staff, be sure to keep those receipts and save them for deductions when filing your taxes annually.
Whether it is a Form 990 for your tax-exempt organization or one of the many business tax forms you file, TaxBandits has you covered and saves you time.
Create a free account today in just a few steps and get back to planning that awesome 4th of July 2019 party!
4,262 total views, 1 views today