TaxBandits Now Integrates with Zoho Books for Streamlined 1099 E-filing
Learn what's new from TaxBandits!

|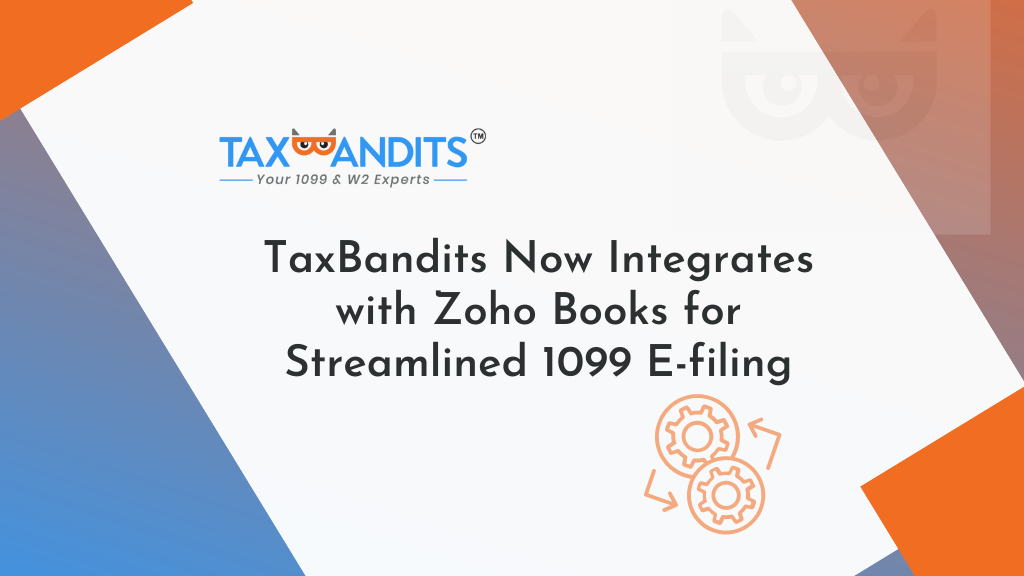 Here at TaxBandits, our team is always searching for new solutions and tools to simplify the e-filing process for you and your business. Whether you are a CPA providing business tax filings to a full roster of clients, or a small business owner managing your own IRS compliance, we offer solutions!

One of the newest tools TaxBandits clients can take advantage of is integration with Zoho Books. If your business uses this software, your 1099 e-filing process is about to get even easier!

Keep reading for more information about the integration and all of its great benefits.

What is Zoho Books©?
Zoho Books is an online accounting software designed with businesses of every size in mind. This software provides a solution for managing business finances in a streamlined application.

When it comes time to file 1099 forms at the end of the year to report business payments, this is where TaxBandits enters the picture.

How Does the Integration Work?
The integration with Zoho Books allows TaxBandits clients to connect to their Zoho account to easily import 1099 payment information. Once the information is imported from Zoho Books to TaxBandits, clients can review the information and generate their forms.

Currently, the integration supports both Forms 1099-NEC and 1099-MISC, two of the most common 1099 forms that businesses are required to file with the IRS.

An Overview of 1099-MISC and 1099-NEC
These 1099 forms are commonly used by businesses each year. These must be filed with the IRS and the business is also required to furnish the payment recipient with a copy.
It is used to report non-employee compensation, including payments to independent contractors, sole proprietors, freelancers, and other self-employed individuals of at least $600 during a calendar year.
It is an IRS form used to report a certain type of miscellaneous income, including rents, prizes, awards, and healthcare payments made in the course of business or trade during a calendar year.

Get Started with TaxBandits!
TaxBandits offers a complete solution for IRS e-filing with the IRS, SSA, and states. In addition to easy and accurate filing, we also offer easy solutions for furnishing your recipients with copies of their forms.

You can opt-in to our postal mailing and online tax access to ensure you meet all of your IRS requirements. Plus, the more you file, the more you can save! Prepaid credits are available and a great benefit for high-volume filers.

Create your free TaxBandits account today and sign in to begin integrating with Zoho Books. 

248 total views, 2 views today