TaxBandits Now Offers a Fillable Form W-9 Solution!
Filling out Form w-9 and sharing it with your payers has never been easier...and free! Learn more!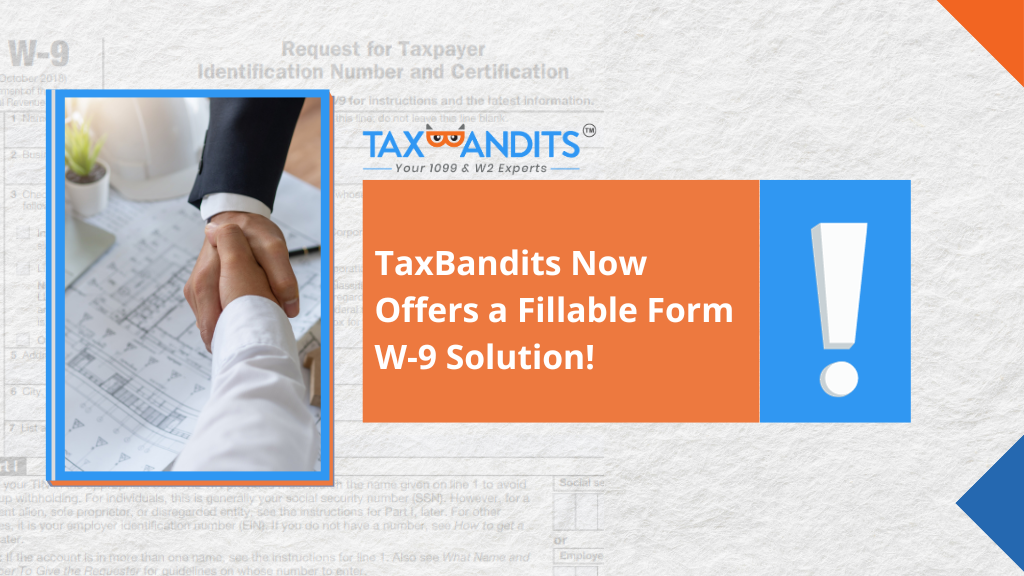 As we are into the last quarter of 2023 already, it's time to prepare ourselves for the approaching tax season before we run out of time.

One thing you must ensure as a taxpayer is to furnish your W-9s on time to the businesses and individuals who are likely to file 1099s or other information returns for reporting the payments they made to you.

Form W-9 – Purpose and Significance
Unlike the 1099s and W-2s, Form W-9 is not a tax return! It's an IRS document that you must use to furnish your Taxpayer Identification Number (TIN) to the payers. This TIN can be the Employer Identification Number (EIN) if you are a business or Social Security Number (SSN) if you are an individual.

After obtaining the W-9s from you, the payers will use the TIN information you provided to file and furnish 1099s for you.

Failure to provide an accurate TIN through W-9 can have a lot of consequences. To start with, the payments you receive from the respective payers will be subjected to a backup withholding of 24%. Not only that, there can be an additional penalty that starts from $50 as well.
Information Provided on Form W-9
Generally, you must provide the following information on your Form W-9,

Name and Address
Federal Tax Classification
Taxpayer Identification Number (TIN)
Backup withholding requirements
FATCA Reporting Exemption Code, if any
Complete and Share Your W-9 in Minutes with TaxBandits!
To make the Form W-9 completion process easier and effortless for you, TaxBandits now offers a fillable Form W-9 solution! You can just follow the following steps:

1. Create and Fill Out Your Form W-9:
Filling out a W-9 becomes easier than ever with our easy-to-use solution. You can just visit <link> and start entering the form details. Our system performs basic validations to make sure that the data you enter is accurate.

2. E-sign Your W-9
Once you have entered all the data, you can preview the details once and sign your W-9 Form electronically.

3. Download / Share W-9
After e-signing, you can download your W-9 Form as a PDF or share it directly with your payers electronically.

Remember, your W-9s will be securely stored in TaxBandits, and you can come back anytime to access, edit, or download your W-9 Form. This allows you to skip manual paperwork and other hassles associated with the traditional W-9 collection process!
Use TaxBandits' Mobile App to Fill out W-9 on the Go!
TaxBandits offers a mobile that allows you to create, complete, e-sign, and download or share your W-9 anywhere, anytime. The app is available for both Android and iOS. 
327 total views, 3 views today