TaxBandits Summer Solutions: Staying Ahead of Tax Season
Lay the groundwork now for a smooth filing season!

|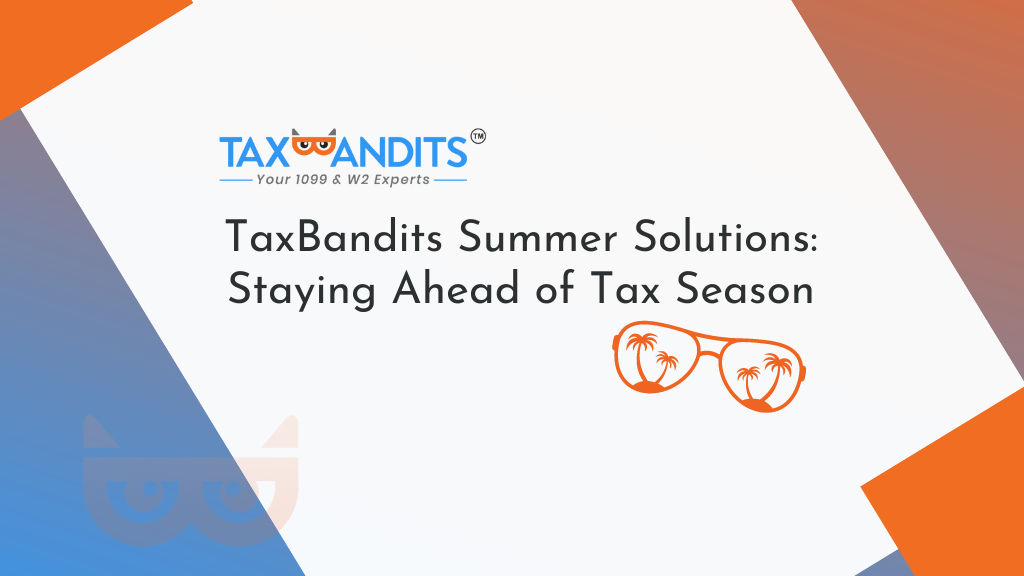 Summer has arrived and this is exciting for all of us. The sun is out, the weather is beautiful, and you're looking forward to a great summer vacation. Your business's next tax season is probably the last thing on your mind, which is certainly understandable.

However, there are a few simple steps that you can take now to ensure that your upcoming tax season runs smoothly. Putting in some work now to lay the groundwork will pay off when the year-end deadlines arrive.

These are the top tips from the TaxBandits team for setting yourself up for a successful tax season, we are here to help you of course!
Vetting Your Tax Professionals
If you are a business owner seeking a tax professional or CPA to handle your tax filing requirements for you, now is the time to start researching. Choosing a tax professional can be a difficult task, the IRS suggests that you thoroughly vet a CPA or tax professional before giving them access to your sensitive business and tax information.

The IRS offers a Directory of Federal Tax Return Preparers with Credentials and Select Qualifications to help businesses and individuals find qualified professionals in their area with IRS credentials.
You can also vet your tax professional by seeing what professional organizations they belong to.
Consider Your Filing Volume
Whether you are a business owner, tax professional, or service provider, it is a great idea to consider the volume of forms you'll need to file with the IRS and SSA for the upcoming tax season.

For example, how many employees do you have, how many vendors or contractors have you worked with, and did you offer your employees health insurance coverage? This will give you an estimate of how many W-2, 1099-MISC, 1099-NEC, and ACA 2095 Forms your business will be required to file.

This will help you plan ahead if the form volume is high, you can estimate how many prepaid credits you will need to purchase from TaxBandits, since this will help you maximize your time and money saved this season, it is worth doing over the slower summer months.
This is also a great time for payroll providers and other service providers to consider TaxBandits API. This enables you to integrate an IRS e-filing process into your existing software. Now is a great time to begin exploring this option and completing the integration in time for a seamless tax season.
Make the Most of Your TaxBandits Account
TaxBandits offers a robust e-filing solution for filers of all sizes. Plus we offer great features that will save you time and help you organize your filing requirements. If you haven't already gotten familiar with these features, now is the perfect time!

W-9 Manager – When it comes time to file and distribute your business' 1099 forms at the end of the year, you will need certain tax information from your vendors and independent contractors. You can collect this information ahead of time using Form W-9. Request this form electronically and get your vendor's e-signature using the W-9 Manager. 
Recipient Copy Solutions – While you're considering how many forms you will need to file with the IRS and SSA this year, consider how many forms you will need to distribute to employees and recipients. TaxBandits has you covered. You can select from our postal mailing services or give your recipients secure online access to their forms through TaxBandits' Tax Form Access.
Staff Management Tools – Tax professionals that are filing on behalf of multiple businesses will need to delegate filing responsibilities amongst their team. With TaxBandits account administrators can invite their team members to collaborate and manage filings within their account. Admins have access to assign different roles to different members of their team, they also have the ability to control the level of access each team member has and can review all of their account activity. 
Client Portal: As a tax professional, you will be sharing and sending sensitive information between your clients and your team this tax season. How will you do this safely? The answer is the TaxBandits Client Portal! Invite your clients to set up their portal well in advance of the season for a secure flow of communication in the coming months. This will allow you both to share information safely and in real time. 
These are just a few of the many ways you can streamline your tax season and save yourself the stress of a last-minute struggle in January!
Stay tuned for more Summer Solutions from TaxBandits!

200 total views, 1 views today