TaxBandits Tip: What You Need To Know About TIN Matching
|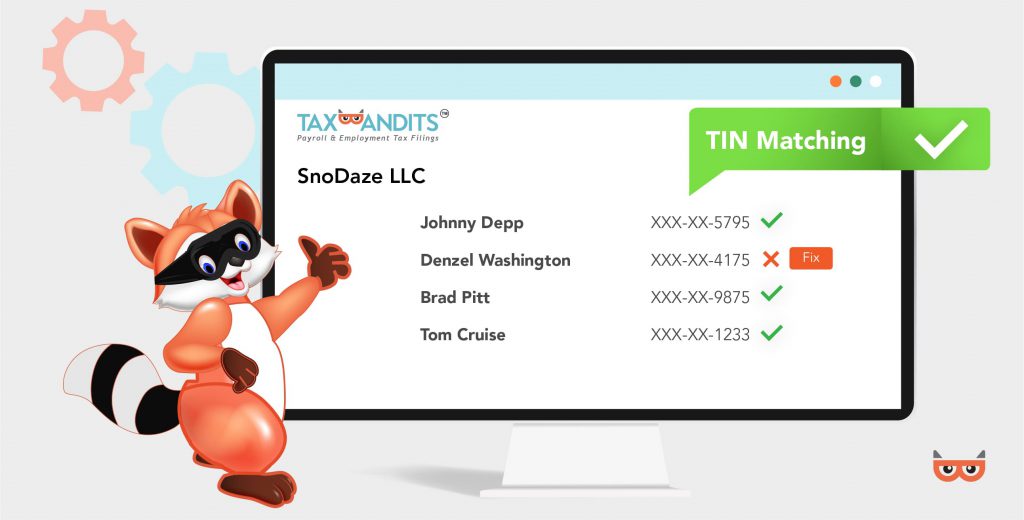 One of the most common errors that employers make on their tax forms is entering their employee's TIN incorrectly. It is a small error with big consequences. When this number is entered incorrectly, the IRS is unable to identify the business or individual that you are referring to.
Why Is TIN Matching Important?
Entering the wrong tax identification number on your business' tax forms is like entering the wrong social security number on your personal tax return.
Without this identifying number, the IRS is unable to identify you, to them you basically don't exist. Remember, if you are filing wage forms, you must also be mindful when entering your employee's tax identification information.

TIN Matching is a service that helps businesses prevent this simple error. In the short run, you avoid the annoyance at having to provide corrections to the SSA and in the long run you will avoid any penalties or Social Security "No-Match" Letters as a result of incorrect filing.
TIN Matching…How Do We Do It?
Great question! TaxBandits offers TIN Matching when you file your forms using our software. With the January 31st deadline coming up, now is a great time to start filing your W-2's with TaxBandits. We can help you facilitate both your e-filing with the Social Security Administration (SSA) and mailing your recipient copies to your employees securely.
How Does TIN Matching with TaxBandits Work For W-2's?
When it comes to filing your W-2's it is so easy to make a mistake on one of your employee's social security numbers. With TaxBandits this is a worry of the past. When you file using TaxBandits, we validate each of your employee's tax identification numbers against the Social Security Administration (SSA) database.
For any TIN mismatch that may occur, TaxBandits notifies you in less than one business day. Our user-interface allows you to easily make the necessary changes. When you file within five days of the deadline, TaxBandits transmits your forms to the SSA to save you from penalties. We will then perform TIN matching and notify you to any corrections that need to be made. We can then help you through these corrections!
TaxBandits Pricing For Form W-2
With TaxBandits you can start filing your Form W2 for as low as $0.50 per form, you can get started filing today! If you have to file more than 1,000 forms, be sure to contact our TaxBandits team for custom pricing!
1,968 total views, 2 views today