There Are Multiple Ways To E-Sign Form 941
|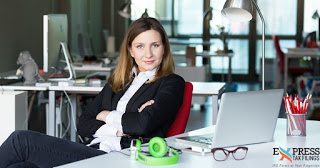 The clock is ticking and you're officially running out of time to file your quarterly Form 941. The deadline to file this return is on October 31st, and that's almost here! Before you panic and hire an expensive accountant, take a deep breath and head to ExpressTaxFilings.com.
ExpressTaxFilings is the market leading business tax e-file provider that has every tool necessary to simplify filing your tax returns online. The step-by-step process will help you complete your return in a matter of minutes, all on your own. Plus, we provide helpful tips and information along the way.
For example, we explain how to quickly and easily sign Form 941 online, even if you don't have an online signature PIN.

How To E-Sign Form 941
Form 941
First, we will provide a quick refresher. Form 941 is the Employer's Quarterly Tax Return and it's the report used to disclose employment taxes for those who own and operate a business with employees.
This report makes sure that you're withholding income, social security and Medicare tax from your employee's paychecks, which you're responsible for doing. It's also used by the employer to pay the Medicare and social security tax that they owe to the IRS.
Online Signature PIN
In order to complete Form 941, you are required to sign it online, and there are actually two methods for e-signing 94x series forms. For example, you could sign your Form 941 with your online signature PIN, which is a 10 digit code provided by the IRS.
If you don't have an online signature PIN you can apply for one for free with ExpressTaxFilings! Just be aware that the process could take up to 45 days, so if you don't have that amount of time before the deadline you'll need a plan B.
Form 8453-EMP
Good thing ExpressTaxFilings provides plan b, which is Form 8453-EMP. This form allows you to instantly e-sign all of the 94x series forms and the process is easy. When you're ready to sign your 941 Form you will download this form, fill it out, and upload it back to ExpressTaxFilings.
You can use Form 8453-EMP to sign your own form or as a tax preparer send it to your clients via email, fax, or postal mail.
To complete Form 8453-EMP all you need is taxpayer/business owner information such as your name, signature, title, and the date. If applicable as an ERO or Electronic Return Originator, you will need your SSN or PTIN, business name, address, and zip code. Also, if applicable, as a tax preparer, you will need your name, PTIN, firm's name, address, and EIN.
E-Filing is Easy With ExpressTaxFilings
Giving you the ability to e-sign your 94x series forms is only one of the ways ExpressTaxFilings simplifies taxes. You can also use the bulk upload feature to upload information for all of your clients at once, have us mail copies of returns to any recipients, and more!
Plus, our dedicated, US-based support team is here to help every step of the way! If you need any assistance give us a call Monday – Friday from 9 AM to 6 PM EST at 704.684.4751. We also offer live chat and 24/7 email support at support@ExpressTaxFilings.com.