Today is the Deadline to File Business and Personal Taxes with the IRS!
Request an extension with our friends at ExpressExtension!

|
Request an Extension to Avoid Penalties.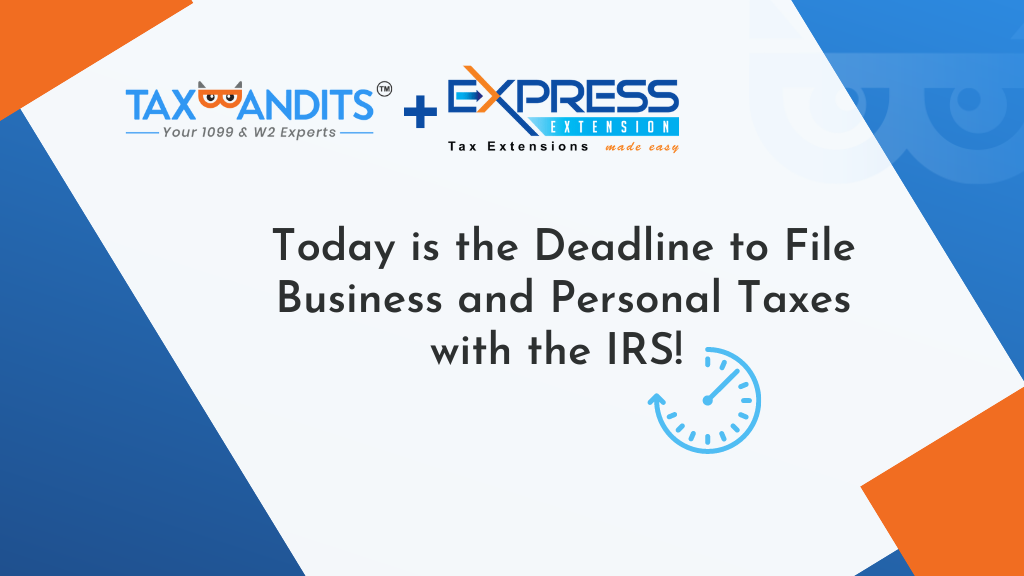 It's here again, tax day! There are just a few hours left to file Personal Tax Form 1040 and Business Tax Forms 1120, 1041, and more!
There are a few notable deadlines today, this includes Form 1040 for personal tax returns and Forms 1120 and 1041 for C corporations and trusts (business tax returns).
While filing an extension does not apply to your IRS tax payment, extending the deadline to file your return can save you time and prevent penalties for incorrect filing.
Here is what you need to know to file a business or personal tax extension for your deadline today!
Extension for Personal Tax Returns
As you may know, Form 4868 is the form you need to file to request an extension of time to file your personal tax return.

Completing and filing Form 4868 is a simple process as long as you have all the required information available. You don't need to gather a lot of information for filing Form 4868, you only need basic tax information. You will need your personal details, such as Name, SSN, and Address. If you are filing a joint return, you will need this information from your spouse as well.
Apart from this, you are also required to provide information about your taxes due (if any).
You must complete your request for an extension and submit it to the IRS on or before the original deadline of your form, a.k.a tonight. That will provide you with an additional 6 months to file your return, pushing your new deadline to October 16, 2023.
What is Extension Form 7004?
Form 7004 provides an automatic extension for business income tax returns for up to six months when filed properly, extending the deadline until October 15, 2022. If you are extending the deadline to file Forms 1120 or 1041, this is the form for you!
The good news is that Form 7004 is a straightforward form with a simple purpose.
Extension for Business Tax Returns
If you are required to file Form 1120 or 1041 or any other business tax return today, then you have the option to file Form 7004 to extend your deadline.

Form 7004 provides an automatic extension of up to 6 months for filing your business income tax returns, extending the deadline until October 16, 2023.
Just like 4868, completing Form 7004 is also a simple process. The following information is required to complete Form 7004,
Your business type (estate, trust, C corporation, etc)
Basic Business Details such as Name, EIN, and address
Tax year followed by your business
The tax form you are requesting an extension for.
Your estimated tax payment.
Get Started with ExpressExtension to E-file Forms 7004 and 4868
Don't worry! Our friends at ExpressExtension have an easy solution for e-filing IRS Tax extensions.
Did you know that you can file in minutes and get instant updates on the status of your extension form?
Plus, ExpressExtension offers an Express Guarantee. This means you will receive an automatic refund for your filing fee if the IRS rejects your 7004 or 4868 as a duplicate return.
You can even sign in to ExpressExtension using your TaxBandits credentials. Just click the TaxBandits icon on the sign-in page!
Get started today with ExpressExtension!