Why Your Business Needs to Request Form W-9 from Vendors and Contractors
TaxBandits offers a complete solution for requesting vendor tax information!

|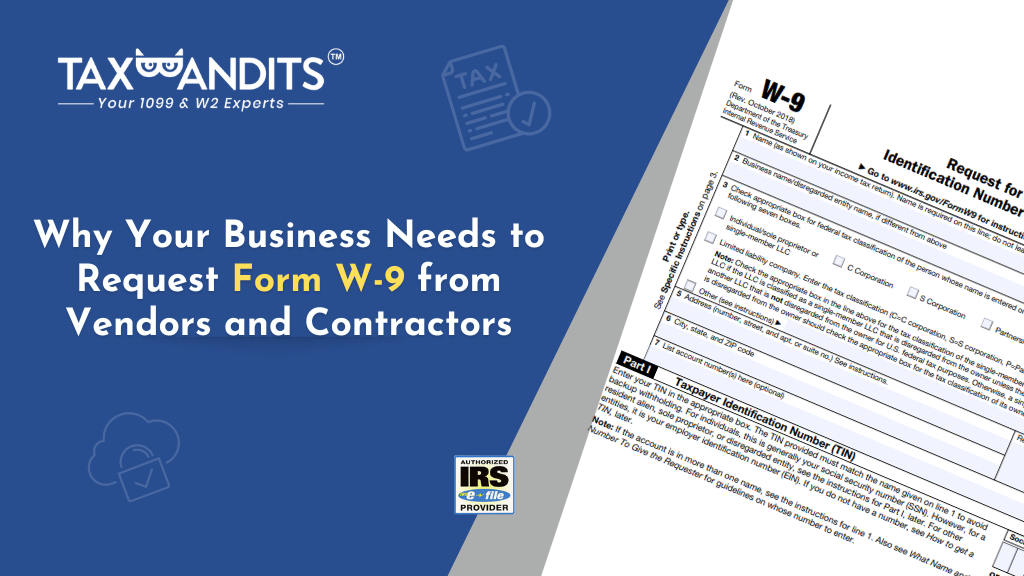 The team at TaxBandits offers solutions throughout the IRS e-filing process, one of these solutions is the option to request W-9 Online from vendors and independent contractors.

This is a great tool to save your business some time when it comes time to file 1099 at the end of the year.

Let's talk about the TaxBandits Form W-9 process and why it can save your business an abundant amount of time in the long run!

What is Form W-9?
W-9 Form is an IRS tax form that is used exclusively for requesting taxpayer information. Businesses benefit from requesting a Form W-9 from any vendor or independent contractor that they work with. 

This form is not required to be filed with the IRS, it is used for recordkeeping purposes. However, the taxpayer information that is requested on Form W-9 is needed by businesses when they file any tax forms in regard to the vendor.

Why Complete Form W-9 if it's not a Filing Requirement?
Our team gets this question pretty often, while the IRS doesn't require you to request taxpayer information from your vendors using the W-9, they do require your business to have this information.

When it comes time for year-end filing, your business will most likely need to file a
1099 Form for the vendors or independent contractors if you've made payments to them.

When filing any 1099 form, you are responsible for entering the individual's taxpayer identification number, or TIN. Depending on whether the vendor or independent contractor was a business or individual, this will be the EIN or SSN. Without this information, you won't be able to successfully complete and file forms.

How Does TaxBandits Make the Process Easier?
Our goal at TaxBandits is to provide a complete, and easy-to-use solution for your IRS tax filing needs. This includes streamlining how our business requests and receives taxpayer identification information using IRS Form W-9!
Here's how it works:

You Send a W-9 Request
Simply enter the vendor's name and email address and request W9 Online via email. This can be done in bulk, or one request at a time.
Vendors Complete and Submit W-9 in Minutes
Once the vendor receives the email, they will be prompted to complete the W-9 using the secure TaxBandits portal and provide their electronic signature. Once completed and signed, the vendor can submit the W-9. We will send them their own copy of Form W-9 via email.
You Accept and Store Form W-9 Information
Once the vendor has submitted their W-9, you will be notified by email. Don't worry, you can update the notification settings based on your preference! You can now review, accept, and store the Form W-9 in your TaxBandits account.
See, the process is simple!
Ready to get started? Create your free TaxBandits account today!
Already here? Great! Just sign in and navigate to the W-9/W-8BEN tab of your TaxBandits Dashboard.

650 total views, 5 views today