Today's the Last Day to Get a Business Tax Form Extension!
|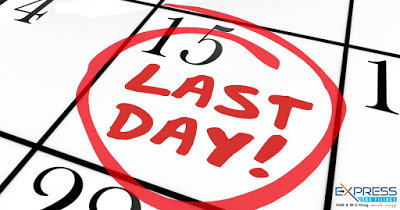 Listen up everyone because we've got some pretty urgent information: today is the last day to file a Form 7004 to extend your business tax return deadline! That means your taxes are also due today as well as your business tax return if you don't intend to extend.
BUT if you head over to ExpressExtension right now, and take about fifteen minutes to e-file a Form 7004, you could get up to seven more months to complete your business's information returns and file them with the IRS.
Form 7004, Application for Automatic Extension of Time to File Certain Business Income Tax, Information, and Other Returns can be used to extend the deadline for the following forms:
-Forms 706-GS(D) and 706-GS(T)
-Forms 1120, 1120-C, 1120-F, 1120-FSC, 1120-H, 1120-L, 1120-ND, 1120-PC, 1120-POL, 1120-REIT, 1120-RIC, 1120S, and 1120-SF
-Forms 1041, 1041-N, 1041-QFT, and 1042
-Forms 1065, 1065-B, and 1066
-Form 3520-A
-Forms 8612, 8613, 8752, 8804, 8831, 8876, 8924, and 8928
Now, depending on your business type and your tax year period, you'll be granted an automatic extension between five and a half to seven months. Also dependent on these things is which part of Form 7004 you complete:
-Part I is completed by C-Corporations with tax years ending December 31 for an automatic 6-month extension.
-Part II is completed by certain estates and trusts for an automatic 5½-month extension.
-Part III is completed by those who would normally complete Parts I or IV but their tax year doesn't end on December 31 or June 30 for an automatic 6-month extension.
-Part IV is completed by C-Corporations with tax years ending June 30 for an automatic 7-month extension.
ExpressExtension has a Q&A-style way of completing your forms, so if all that we just went through seems a little overwhelming, it's just the place for you. To complete Form 7004 with ExpressExtension, all you need is your business's basic information (name, EIN, address), your contact info, and to know which tax form your business normally files. ExpressExtension puts your form together, runs a few error checks to ensure your form is free of any obvious errors, and securely transmits your form to the IRS, all in a matter of minutes.
Another bonus of e-filing with ExpressExtension is that we send you an email alerting you that your Form 7004 extension request has been accepted by the IRS, usually within an hour or two of transmitting.
And just like over here at ExpressTaxFilings, ExpressExtension has a dedicated customer support team who is happy to help in any way they can. Just give them a call (803-514-5155) or send a live chat or email (support@ExpressExtension.com) if you have any questions about e-filing your Form 7004.
So head on over to ExpressExtension now! Create an account and get that business tax extension (and, while you're at it, maybe a personal tax extension) done!