How to Quickly File W-2 Forms & 1099 Forms Last Minute
|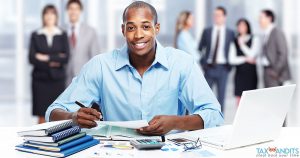 The tax scramble is on! Everyone, including small business owners and accountants, are rushing to file a lot of important tax forms before the major January 31 deadline. Your W-2 Forms and 1099 Forms are just two of the forms that need to be filed by that date!
However, you don't need to be in a rush. TaxBandits, your business tax filing solution, is here to help by providing you with all the tools and forms you need to easily file W-2 forms and 1099 forms by the deadline with extra time to spare. Check out how you can quickly file and take back your time.
The Fastest Way Business Owners and Accountants are Filing W-2 Forms & 1099 Forms
While there are multiple tax forms due on January 31, including Form 940, and Form 941, today we're focusing on W-2 Forms and the 1099 Series. Currently, TaxBandits supports Form 1099-MISC, 1099-INT, and 1099-DIV.
All you have to do to complete your forms with TaxBandits is create your free account then follow our easy interview style e-filing guide. Our instructions actually explain what information is required to complete your form and where it needs to be entered.
We know that you have to file these forms federally and in most states, you need complete your state filing requirements too. That's why we support state filing for both of these forms. You can quickly view your state's regulations and file according to their rules.
To make the process even easier for you, for filing W-2 Forms we support the transmittal Form W-3. This Form is required to report the total earning, social security wages, Medicare wages, and tax withholdings' for employees during the tax period.
TaxBandits E-Filing Features
TaxBandits also has a number of convenient e-filing features to support your needs, as a small business owner filing your taxes, or a CPA filing for multiple corporations.
For instance, our bulk upload feature allows you upload all of your employee information at once, so you won't have to enter it all one at a time. You can upload your information
with your own Excel sheet or you can use our downloadable template. 
Then, as you're probably aware, you have to mail out copies of these forms to your recipients by the January 31 deadline! Luckily, we make that extremely easy to do with our postal mailing feature. You can use this feature to have our team print and mail copies of W-2 Forms and 1099 forms to each of your recipients.
If you need a little help filing, use the multi-access feature to grant trusted employees access to your TaxBandits account. They will be able to edit, manage, create, and submit returns to the IRS.
Also, you will know exactly what your employees are doing, because every action they take will be recorded in the activity log. You'll see exactly who did something and when. They won't be able to access this information themselves.
Plus, if you have multiple forms to file for you can purchase pre-paid credits in advance, that offer a major filing discount. This way you won't have to enter your payment information every time your file a return and can generate some major savings.
Best of all, the live, US-based TaxBandits support team is always standing by to help. If you need any assistance please don't hesitate to contact us! We're available over the phone at 704.684.4751 Monday – Friday from 9 AM to 6 PM EST. We also offer live chat and 24/7 email support at support@TaxBandits.com.